PhoneArena Awards 2014: Best smartwatches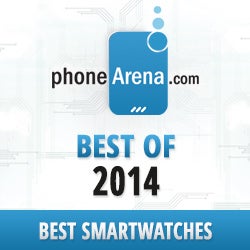 Wearable gadgets – the ones meant to go on your wrist, in particular – have been around for a pretty long time. In 2009, LG brought us the GD910 watch phone, Seiko's TV watch was introduced in 1983, and it was 1977 when HP made a wrist-worn calculator.
The race for the consumer's wrist, however, has never been as intense as it is today. Smartwatches are at the peak of their popularity, and chances are they'll be making more and more headlines over the coming years.
This brings us to today's category in our PhoneArena Awards series, where we highlight the best smartwatches of 2014. Yes, we did review some pretty decent smartwatches over the year's course – smartphones that were both good-looking and actually useful. And we think the world should be aware of their existence. So without further ado, we give you the Asus ZenWatch, the LG G Watch R, and the Motorola Moto 360.
Asus ZenWatch
Still thinking that smartwatches are olny for geeks and people who would put tech specs over appearance? Well, then take a good look at the Asus ZenWatch and tell us if you wouldn't wear this baby on a daily basis. Simply put, this is one of the most beautiful smartwatches yet. It has elegant curves, it is built well and of solid materials, and it holds on to your wrist with a sturdy, premium strap. But it gets even better. The Asus ZenWatch can be had for around $200 bucks, which is a bargain. Long story short, if you're in the market for an Android Wear smartwatch, this should be one of the first options to consider.
LG G Watch R
While the LG G Watch R is one of the most expensive smartwatches around, it has a lot to justify its cost with. First and foremost, it has a crisp, circular display and a solid, stylish design. It has the appeal of a classical timepiece without that hindering its smart abilities in any way. Better yet, it is a sturdy, waterproof device that won't let you down when facing the elements. And if that's not enough, it has great battery life for an Android Wear-powered smartwatch.
Motorola Moto 360
This post would be incomplete if we omit putting the Motorola Moto 360 on the list. Without a doubt, it is one of the best-looking smartwatches yet, especially when we take into account its circular design and metallic construction. Plus, you get resistance to water damage and built-in
wireless charging
along with Motorola's beauty. We do hope, however, that the Moto 360's successor will lack a stripe at the bottom of its screen.