PhoneArena Awards 2014: Best tablets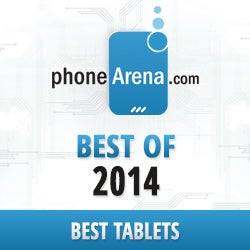 Tablets are pretty neat and handy, aren't they? They keep us entertained when we're bored, they make it easy to get in touch with friends, they help us with work and studies, they can even keep Junior occupied when mommy and daddy need some peace and quiet. Not all tablets are made equal, however, and it is our job to highlight the ones deserving the attention of our readers.
This brings us to today's category in our PhoneArena Awards series, where we highlight the year's top tablets. We had the chance to review dozens of slates over 2014's course, and many of them were pretty good, but at the end of the day, these are the three we liked best.
Apple iPad Air 2
In 2010, Apple single-handedly defined what a modern tablet should look and feel like. Today, more than four years later, the iPad is still on top of the tablet food chain despite the stiffer-than-ever competition. Sure, it may not be the perfect tablet, but it is quite possibly the best tablet one can get. Its latest iteration, the
iPad Air 2
, is light, well-built, and unbelievably thin, which makes it an ideal companion, be it when you're on the go or simply chilling in the couch. It also packs a beautiful screen that's clearly visible even outdoors. With the new A8X system-on-a-chip and 2GB of RAM, performance is never an issue, and with iOS's broad selection of tablet-optimized software, there's an app or game to match any need or taste. And if that's not enough, the tablet's 8MP camera can take presentable shots when a better snapper isn't around. All of this is wrapped in a meticulously-crafted, metal-made body that's a pleasure to touch.
Google Nexus 9
It may not be the prettiest tablet out there, but seriously, you won't really care once you get to know the
Nexus 9
better. That's because its appeal is the inside. Built by HTC, it is the device meant to showcase Google's Android 5.0 operating system and Material Design in all their unaltered beauty. You get some pretty serious hardware under the hood, too, including a 64-bit Tegra K1 SoC and 2GB of RAM, which have no troubles handling anything you throw at them. To keep you entertained, the Nexus 9 is equipped with a great-looking, high-res screen and front-facing stereo speakers. And with its 6700mAh battery, the slate is one of the longest-lasting in our book. What more could you ask in exchange for $400?
Sony Xperia Z3 Tablet Compact
How many water- and dust-resistant tablets can you name? Not much, probably. Well, the Sony Xperia Z3 Tablet Compact happens to be one of those few tablets resistant to the elements, but that's far from all there is to like about it. Sony's 8-inch slate carries "Compact" in its name for a good reason – it is one of the lightest, thinnest, and most portable tablets in its class. Better yet, its compact size is not dragging its battery life in any way. In fact, the Z3 Tablet Compact has excellent battery life, as our benchmarks confirm. But it gets even better once you inspect its specs sheet. With a Snapdragon 801 SoC and 3GB of RAM, Sony's petite slate is both fast and future-proof.