PhoneArena Awards 2014: Best phablets
96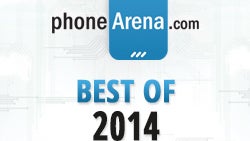 "Phablet" is a word that didn't even exist until several years ago. Today, these devices bridge the gap between smartphones and tablets by delivering the best of both worlds. They're small enough to be carried in a regular pocket, yet sufficiently large for us to enjoy the web, our apps and games, and our media to their fullest.
At the same time, people are becoming more and more open to the idea of giving these extra-large smartphones a try. That's why the phablet market share is on the rise and is estimated to continue its ascend over the coming years. And those who have already converted to using a phablet are probably not thinking of going back.
But out of all phablets out there, which are the most deserving our attention? Which are the best phablets one can get? Well, that's what we're here to talk about. Today's category in our PhoneArena Awards series honors the best phablets of 2014.
Samsung Galaxy Note 4
As the company that kickstarted the phablet category into existence, Samsung sure knows how to make them, and its fourth generation Galaxy Note handset is its best yet. In fact, we don't think you'll find a phablet better than the Samsung Galaxy Note 4. It packs a gorgeous screen, it screams with processing power, and its 16MP camera takes excellent photos. Not to mention that the phablet looks attractive with its sophisticated textured back and metal frame around the sides. On top of that, you get a number of perks including an IR blaster, a heart-rate monitor, a fingerprint scanner, and, of course, the lineup's signature S Pen digital stylus, which is more useful than ever. Seriously, what more could you ask for in a phalet?
Google Nexus 6
Having a phablet join the Nexus family was a somewhat unexpected event, but we're not complaining. After all, the Google Nexus 6 has quite a lot going for it – from its high-resolution, QHD AMOLED display and ultra-fast processor to the optically stabilized camera and set of stereo speakers. But the software it comes with is no less worthy of attention. The Google Nexus 6 is a smartphone showcasing the Android 5.0 operating system in all its unaltered beauty, with all its functional and visual enhancements. Add its great battery life to the formula and you get a phablet you can't go wrong with.
Huawei Ascend Mate7
Surprised to see the Huawei Ascend Mate7 on this list? This means you might have not read our review of it very closely. Huawei has actually built a splendid phablet with a lot to like about it – from the solid, premium build quality and design to the performance of its software driven by some mighty powerful hardware. Better yet, the Huawei Ascend Mate7 is a marathoner with an outstanding battery life, beating even the highly-acclaimed Galaxy Note 4 in this category. Long story short, Huawei has proven that it is perfectly capable of producing high-quality handsets, and we're eager to see what's coming next from the Chinese company.