PhoneArena Awards 2011: Best product design
42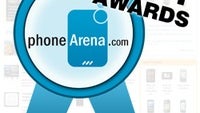 Ladies and gentlemen, welcome back to the
PhoneArena Awards of 2011
! Today, we are here to announce the best product design of the year, and boy do we have a lot of candidates to grab the prestigious title. However, there can be only one winner in this category, but since we are good in heart, the second and third best devices will also get some attention. What we are mainly focusing on today is the way a product looks, but the way it feels when being used is also of great priority. Besides, premium materials are, of course, a plus. But before we start, allow us to remind you that we have already given six other awards over the past several days, so in case you have missed them, feel free to check them out.

And the award goes to:

Motorola DROID RAZR
Anyone who has ever had the pleasure to hold the
Motorola DROID RAZR
knows exactly why we give it our best product design award. First of all, the RAZR is almost impossibly thin. It currently holds the title of thinnest smartphone on the market, for that matter, despite the fact that it boasts some cutting-edge hardware. Second, how often do you see a smartphone built out of stainless steel and Kevlar? The premium materials that have been used in its construction ensure its rigidity, so you know that the Motorola DROID RAZR will withstand the tests of time.

First runner-up:

Sony Ericsson Xperia ray
If we had to describe the
Sony Ericsson Xperia ray
with a single word, that would be "adorable". The smartphone is thin, light, and incredibly comfortable for single-handed use. On top of that, it has enough charm to grab the attention of the design-conscious audience, and Sony Ericsson didn't miss the chance to
use the power of marketing
to bring that up.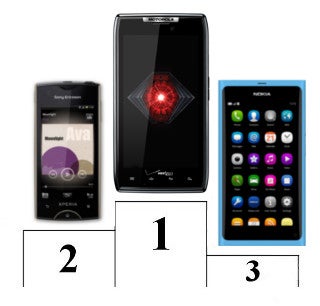 The Motorola DROID RAZR grabs the best product design award, followed by the Sony Ericsson Xperia ray and the Nokia N9
Second runner-up:

Nokia N9
The
Nokia N9
may be one of the outsiders on the smartphone scene, but when it comes to design, it surely scores two thumbs up with its minimalistic and elegant looks. For it has something that most of the smartphone heavyweights lack – personality. Touching the curved glass on its display is a celebration for your fingers, and the sloped sides make the device lay naturally in your palm. With its high-grade colored plastic casing, the Nokia N9 feels fresh, modern, and simply cute.
So, there you go, folks! The Motorola DROID RAZR scores the best product design award, followed by the Sony Ericsson Xperia ray and the Nokia N9. But the PhoneArena Awards of 2011 are far from over yet! Stay tuned, as the next category will be announced no later than Monday.