Who says gadgets aren't sexy? Daisy Lowe proves the opposite for the Sony Ericsson Xperia Ray
9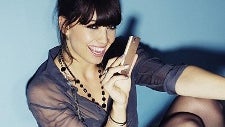 Now, you might have heard about Gizmodo starting a holy war to ban the use of the word sexy for gadgets (a sin we'd also admit to), and so must have British model Daisy Lowe. Just to prove them wrong, mind you. The 22-year-old stars in an ad for the
Sony Ericsson Xperia ray
, a handset you'd find hard concentrating on in the pictures below.
But to concentrate on it, you'd first have to find it! And if you don't find it in the first picture below - we don't blame you. Yes, it's right there, tucked in Daisy's stocking and after you've solved that puzzle successfully, you can now try and solve another one - the purpose of these ads.
First, we should mention that the series of three films showing the daily life of Daisy (mostly centered around buying a dress) is shot on the Xperia ray's
8.1-megapixel camera
. It's also somehow connected to the seven deadly sins, but we find it hard to grasp how the Xperia ray fits in there exactly. For miss Lowe, we are far more certain, though.
Now, looking at the Xperia ray and the purported 4.65-inch HD screen and dual-core chip on the Sony Ericsson Nozomi, we are almost tempted to call the latter sexy. But gadgets aren't sexy, really. And the Xperia ray won't become any sexier even if tucked in Miss Universe's stockings, but yeah, we'd appreciate her beauty.