PhoneArena Awards 2011: Most overpriced product
85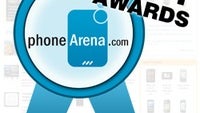 Ladies and gentlemen, it is time to announce the next category in the
PhoneArena Awards of 2011
. Today, a "prestigious" award will be presented to the most overpriced product of the year – the kind that consumers spend a heap of cash on only to realize later that it is not worth nowhere near as much.
But before we start, let us make it clear that we take into account the price, at which the product in mind was launched, and not the price, at which it can be bought today. Also, third-party stores, such as Amazon and eBay, do not count. But most importantly, for a product to be a true winner in today's category, it does not necessarily need to bear a four-digit price tag. Instead, what matters the most is how much (or how little) it offers for the price that a manufacturer or a carrier is asking for it.
And by the way, do not forget that we have given five other awards already, so in case if you have missed them, feel free to check them out.

And the award goes to:

HTC Jetstream
The
HTC Jetstream
joined AT&T's lineup in September and pushed the limits of how expensive a tablet can get thanks to its $700 on-contract price tag. Yes, you read that correctly – even though you had to spend a whopping $700 on the darn thing, you still had to carry the ball and chain attached to your leg for the next two years. Of course, you were given the option to skip the whole commitment part, but in that case, the price of the tablet went all the way up to $850.
Sure, the HTC Jetstream offers both decent hardware and LTE connectivity, but let us not forget that AT&T's LTE network was still under development at the time of the tablet's launch. Besides, even though it has a 1.5GHz dual-core processor under its hood, its performance isn't quite flawless, as it became evident in our
HTC Jetstream review
. In reality, the tablet did not have what it takes to justify its $700 launch price when a Samsung GALAXY Tab 10.1 with LTE from Verizon was $70 cheaper at the time, yet could do pretty much the same tricks. Fortunately, the HTC Jetstream can now be bought at $100 less, which brings its price to $600 and $750 with and without contract respectively.

First runner-up:

Motorola ATRIX 4G Laptop Dock
The
Motorola ATRIX 4G
introduced a very neat concept to the market – when you pair it with its Laptop Dock, the smartphone transforms into a portable computer with 11.6 inches of display real estate. Cool, isn't it? However, the Laptop Dock is an accessory that does not come included with the device. And do you know how much it was being offered for when it was unveiled? Well, here are the exact figures: $300 when purchased bundled with the ATRIX 4G or $500 when bought separately. And that was really expensive for a screen with a keyboard and a pair of USB ports, considering that a decent netbook could be purchased for the same amount of cash. Besides, the Laptop Dock could be used with no other smartphone but the ATRIX 4G. Fortunately, the
newer versions of the accessory
come cheaper and are compatible with a broader spectrum of Motorola smartphones.

Second runner-up:

BlackBerry PlayBook
At first, $500 might seem like a reasonable price for a tablet, especially when it comes from a trusted manufacturer. However, when you consider that the
BlackBerry PlayBook
was released with half-baked software and that it required to be paired with a BlackBerry smartphone in order to access BlackBerry services, the tablet simply was not worth getting and received quite a lot of criticism after its debut.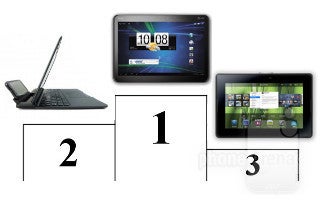 1st - HTC Jetstream2nd - Motorola ATRIX 4G Laptop Dock3rd - BlackBerry PlayBook
Sure, RIM has released quite a number of software patches and improvements since the PlayBook got launched, but the initial experience that the tablet delivered left BlackBerry fans pretty underwhelmed. The BlackBerry PlayBook is currently available for $199 with 16 gigs of on-board storage.
Well, ladies and gentlemen, from our point of view, these were the most overpriced products of 2011. However, the PhoneArena Awards of 2011 are not over yet, so stay tuned, as the next one will be given no later than tomorrow!