PhoneArena Awards 2011: Most delayed smartphone
22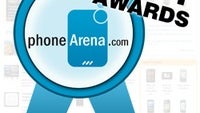 We at PhoneArena have another award to present today, and the most delayed smartphone of 2011 will be the one to walk away with it. But before we announce the absolute winner in this category, let us start by making it clear what is required for a device to fully deserve the "prestigious" title.
Obviously, we need a smartphone that was expected to debut at one point of time, and was eventually made available for purchase at a much, much later date. The longer the wait, the higher the odds for a given handset to top our chart. But what we also need to add to the equation is how much hype it was surrounded by and how eager were smartphone enthusiasts to get their itchy hands on it.
And by the way, we recently announced the year's
most significant deal
,
best innovation
, and
greatest technology breakthrough
that occurred within the realm of the wireless industry, so feel free to check them out as well if you have not done so already. Having that out of the way, it is time to announce which is the most delayed smartphone of 2011.

And the award goes to:

Motorola DROID BIONIC
When the
Motorola DROID BIONIC
was unveiled back in January of 2011, it was seen as nothing but an embodiment of cutting-edge technology. Having both the processing power of a dual-core processor, and the lightning-fast internet connectivity delivered via its 4G LTE radio, this was the smartphone that simply had anything an Android fanboy could ever wish for.
But after that came the long, excruciating wait for the Motorola DROID BIONIC to materialize on Verizon's shelves. It took a good 8 months for that to happen, and during that time we were bombarded by rumors and leaks surrounding the much-anticipated smartphone. Unfortunately, due to the outrageous delay, the BIONIC simply couldn't launch with that big of a bang, and all the hype around it settled in no time.
Of course, you should not get us wrong as the Motorola DROID BIONIC is still a great Android smartphone. Our point is, however, that once it was on the market, the smartphone simply failed to impress the audience to the degree it could have, and it is all because of its premature announcement.

First runner-up:

iPhone 4S
Okay. So, technically, the
iPhone 4S
was not delayed since Apple did not announce the smartphone until the right time had finally come. However, the company's tradition to unveil a new iPhone iteration every summer got everyone expecting to see an iPhone 4 successor on stage during WWDC of 2011. Sadly, that didn't happen. Apple fans had to wait until October to finally meet Apple's latest and greatest invention, and since well over a year had passed since the iPhone 4 announcement, the iPhone 5, as the device was rumored to be named, was expected to be nothing short of groundbreaking.
But the iPhone 4S is what we got instead – an incremental upgrade of Apple's well-known smartphone instead of a device redesigned from the ground up. Sure, it is still selling like hot cakes, yet many were underwhelmed with what the iPhone 4S turned out to be.

Second runner-up:

Samsung GALAXY S II US models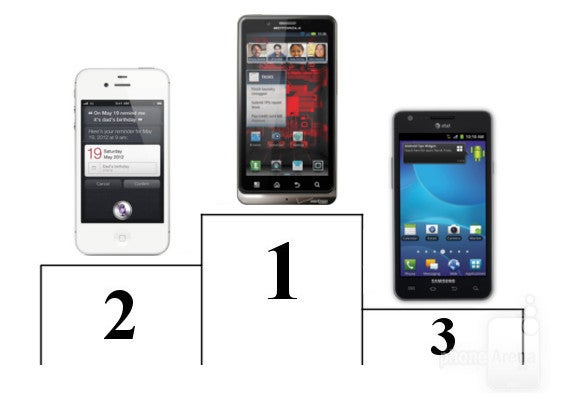 1st - Motorola DROID BIONIC2nd - iPhone 4S3rd - Samsung GALAXY S II U.S. models
There is no denying that the
Samsung GALAXY S II
is one of the hottest smartphones of 2011. Millions of units have flown off the shelves since the handset went on sale back in April, which brought plenty of fresh money straight into Samsung's bank account. But while the rest of the world was taking the smartphone for a spin, the folks in the U.S. could only look at them with envy.
Still, "only" 5 months after it was released in its homeland of South Korea, the Samsung GALAXY S II finally set foot on U.S. soil. AT&T, Sprint, and T-Mobile all got their own versions eventually, albeit with slight modifications, so those who had the patience could finally see what they had been missing all along.
So, there you go. The most delayed smartphone of 2011 (from our point of view, that is) is already known, but the PhoneArena awards of 2011 are not over just yet. Stay tuned, as the next award will be announced no later than tomorrow!