Nokia's Stephen Elop: "We are planning a lot of exciting things with Verizon as well"
20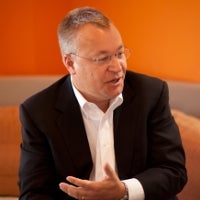 In an interview with CNET, Nokia's CEO Stephen Elop waxed poetic about the path that the company has taken with Windows Phone again, and apologized for the limited Lumia 920 supply, saying that the Finns are working hard to meet demand, and the situation has improved.
When the talk came to the
Lumia 920 exclusivity with AT&T
, though, Stephen Elop commented that they just wanted a focused approach with one carrier, which would set aside more resources, and make Nokia's flagship phone a "hero device", promoting it hard through retail store displays and front office employees.
This, however, doesn't mean everyone else will be left hanging, apparently, as Mr Elop hinted they have a little something in store for the largest US carrier, too:
There might be another similar hero exercise with a different operator. In this particular moment, the opportunity with the Lumia 920 presented well with AT&T. And we're pleased to have just restarted our relationship with Verizon. We are planning a lot of exciting things with Verizon as well.
Nokia's CEO also became more philosophical during the interview about the company culture he had found and tried to keep:
When I started early on I asked a question: What do you want me not to change? They said, the sense that we do good things for society. It's helping people communicate, connecting the next billion people to the Internet, helping move people forward. Culturally, that has continued to remain important. Essentially, we help humans progress. We're not just here to sell phones -- we have higher aspirations.
One thing is for sure about Stephen Elop - he is always pumped about the product, and ready to explain strategic decisions thoroughly. Nokia's comeback might have taken more time than investors thought, but Nokia certainly is been a big and clumsy ship to turn around, though the moves seem to be working, if the skyrocketing stock price is any indication.