Nokia CEO Stephen Elop on PureView Phase 1 and 2: there is much more where that came from
26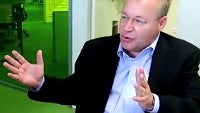 Nokia's CEO Stephen Elop sat down for an interview (recorded entirely with a
Lumia 920
, by the way, save for the sound), and elaborated on many of the pressing issues that face the Finns after the Lumia 920 and
820
announcement.
The interview is worth watching in its entirety, but the most interesting take is that
PureView Phase 1
in the
Nokia 808 PureView
, which brought along lossless zoom and pixel oversampling, and
PureView Phase 2
, which inserted optical image stabilization in a smartphone for the first time, are just a few of the building blocks for a superior camera experience that Nokia has in store to differentiate itself before the competition.
In the future, we are likely to see additional goodies coming out of Espoo's research labs, but also a mix-and-match of Phase 1 and Phase 2, or a granular application across the price range of Nokia handsets. Be it the software processing algorithm, a scaled down pixel oversampling with less megapixels, or the best of both worlds, we can apparently expect aspects of the PureView tech to penetrate the whole Lumia range going forward.
Stephen Elop was also grilled whether the company is prepping some sort of preferential treatment towards the purchase of a Lumia 920 for those who got a Lumia 900, and he said that the 900 will be supported very well, and
acquire new functions with an update
, but still they are considering some sort of an upgrade program, due to popular demand.
On HTC, and its flashy
8X
and
8S
handsets, Nokia's CEO said he is glad that the company leads the way now in Windows Phone design, so that the others seem to be willing to copy the concept, but that also that Nokia has more design surprises in store for its upcoming WP8 pipeline.