Nokia's Chris Weber confirms a Lumia Windows Phone with the PureView camera tech is in the works
17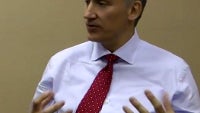 It doesn't get any more official than the head of Nokia's North American business Chris Weber to confirm they are committed to bringing the best cameraphone technology at the moment to future Lumia handsets with Windows Phone, despite that
we've heard it before
.
Chris makes the revelation 3:30 minutes into the video interview below, and says that they are also working closely with Microsoft so that the future iterations of the Windows Phone platform can support sensors like the 41MP module in the
Nokia 808 PureView
and unleash the full potential of their capabilities.
The
PureView tech has been 5 years in the making
, after all, and developed from the beginning with a Symbian backend in mind, so it will take some work to port this over to Windows Phone together with Microsoft, and introduce a new interface.
There is a lot more interesting stuff about the future direction Nokia is heading to with Windows Phone, so you can watch the whole improvised interview with Chris Weber in the video below. Seeing the first
unofficial results from the 808 PureView
, we urge Nokia to hurry up and bring this awesome camera tech to a Windows Phone handset as well.