Nokia 808 PureView vs Nokia N8 video sample comparisons emerge
7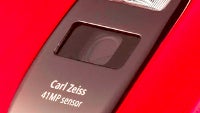 The cameraphone to take the best pictures -
Nokia 808 PureView
- got announced two months and change ago at the MWC expo, and
made it to the retail shelves last week
.
We've seen many
promo shots and videos from it
, mainly from Nokia itself, but now that it is available to purchase, we are expecting a bunch if improvised ones as well.
One of the most interesting things about the monster
41MP PureView camera module
is how it compares with the previous imaging king in smartphones - the
Nokia N8
. Its 12MP sensor with Carl Zeiss lens and Xenon flash is nothing to sniff at, and now we have video samples that compare the new 808 PureView with the oldie but goldie Nokia N8. Color saturation and contrast are higher by default on the Nokia 808 PureView in the HD videos, while footage from the Nokia N8 looks better-lit, but it's the level of detail, clarity and framing space that ring in the main difference.
Have a look for yourself in the video samples below, and marvel at the details and sharpness that Nokia 808 PureView can produce in low light conditions. Here's to this greatness arriving in a
slimmer Windows Phone for Verizon
.