Take $100 off the Nokia 9 PureView and its penta-camera setup starting this Sunday
49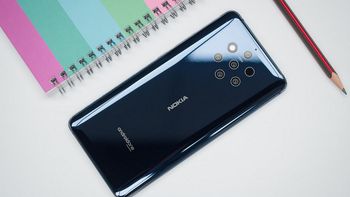 Still, there could be consumers out there who would rather walk around with a conversation piece in their hands, asked constantly "what phone is that?" because of the five cameras (with Zeiss optics) on the back of the unit. And yes, we will get to those cameras in a minute. Right now, we want to tell you about a sale on the unlocked Nokia 9 PureView
spotted by Droid-Life
. From this coming Sunday, May 5th, through Saturday, May 11th, both Best Buy and Amazon will offer the Nokia 9 PureView for $599. That is a $100 or 14% savings. You probably noticed that the deal ends the day before Mother's Day, which is no doubt the reason for the price cut in the first place.
The way the multiple cameras work on the device is not quite what you might have been expecting. All five sensors weigh in at 12MP, three of them are monochrome, and all five fire at once when a picture is taken. The idea is to draw more light into the camera for higher quality photos. There is also a Time-of-Flight (ToF) sensor on the back. This measures how long it takes for an infrared light to bounce off a subject and return to the phone. This data helps it more accurately measure depth for an improved bokeh effect in portraits, and for AR applications.
The Nokia 9 PureView is equipped with a 6-inch P-OLED screen (warn your mom about potential scratches) and is powered by the Snapdragon 845 Mobile Platform. It carries 6GB of memory, 128GB of storage, and comes with a 3320mAh battery inside. Android 9 Pie is pre-installed. Keep in mind, however, that the Nokia 9 PureView works on GSM carriers and MVNOs only such as AT&T, T-Mobile, MetroPCS, and Cricket Wireless.
If you really want your mom to have an easy to use smartphone that she would enjoy, you might want to check out the Moto G7 Power. Stuffed with a 5000mAh battery, the phone is $214.95 at Walmart. Sure, the 6.2-inch LCD screen has a resolution of 720 x 1570 (HD+), but your mom probably won't care and she'll brag to her friends about the long battery life she is getting.