New teaser theory puts Android 4.4 announcement on October 21st
14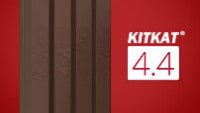 The first time we had a theory about what the KitKat Twitter feed might be suggesting with its posts, it took some leaps in logic to get to the idea that Google might be aiming at
October 28th
as the date to announce Android 4.4 and the Nexus 5. This time around, the theory is a bit easier to follow, but where it is pointing is a bit less believable.
Rather than digging in as deep as the first theory, this one is much more simple: the KitKat Twitter posts could be a simple countdown. On October 14th, KitKat posted a 007 picture for Roger Moore's 86th birthday. On the 15th, it was a picture of the KitKat bugdroid made up of 6 KitKat pieces (not counting head and feet). Yesterday, it was the "This is it" post, where the "S" in "this" and "is" look like they could also be stylized number 5s (this is the biggest leap for us). And today, it was a post saying "The future of confectionery has arrived" with a picture of a 4-bar KitKat with the number 4.4 next to it.
As you can see, there looks like a simple countdown happening. If true, we should see a post that references the number 3 tomorrow, then 2 on Saturday, 1 on Sunday, and that would put the end of the countdown on Monday October 21st. The theory is that Google might release Android 4.4 on Monday.
The timing is a bit odd though, because both
Microsoft
and
Apple
have hardware announcements planned for Tuesday the 22nd. Microsoft and Nokia are expected to announce the Nokia Lumia 1520 phablet, Nokia Lumia 2520 tablet, Windows Phone 8 GDR 3, and possibly the Surface Mini; and Apple is expected to announce the new iPad 5, iPad mini 2, and likely other product refreshes. Google may want to get out ahead of that, but the other thinking would be that Google's announcement will get pushed aside quickly in the rush of Microsoft, Nokia, and Apple news the next day.
We'll keep an eye on the KitKat Twitter feed tomorrow to see if it keeps on track. The Nexus 5 should be coming soon, because Google "accidentally" put it up on the Google Play Store today with an interesting
$349 price tag
.