Dancing candy post hints at an Android 4.4 KitKat release date Friday, October 18th
26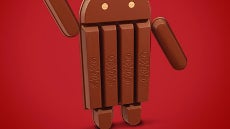 This is as far-fetched as it goes, but Google has been known for its pranks and
Easter Eggs
brain teasers, so let's see what we've got here. First off, the official Google+ account for Android KitKat posted the dancing robot confectionery you see in the thumbnail, with the tag "
Everybody dance now! #AndroidKITKAT
," unleashing a flurry of comments.
Some of them rightfully noted that "Everybody Dance Now" by C&C Music Factory was released on October 18th 1990, and is precisely 4 minutes and 4 seconds long, hinting that we might see an Android 4.4 announcement this Friday, October 18th.
Moreover, the
new Nexus 7 ad
Google released shows October 23 as the date on the widget, which put fuel in the speculation that after the Friday announcement we will have a Wednesday October 23 launch. In any case,
Android 4.4 KitKat
and
Google Nexus 5
unveiling seems to be imminent, so all we are waiting now is for Google to stop teasing and send out something official already.