Nexus 5 briefly appears in Google Play for $349
58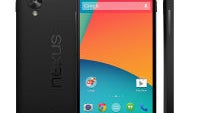 We've seen a lot of rumors and
far-out theories
on when we should expect to see the Nexus 5 and Android 4.4, but nothing proves that we're close as much as an "accidental" listing of the device on Google Play. The new Nexus 5 appeared briefly on Google Play today, and the Nexus 4 even disappeared from the site, but the real news is the price tag for the Nexus 5.
The 16GB model of the Nexus 5 was listed for just $349, which is the same price that adorned the 16GB Nexus 4 when it first went on sale last year. The rumors had suggested that the Nexus 5 might clock in at a bit more expensive, because there was talk that Google might re-release the Nexus 4 with LTE at the $299 price point. That may still be true, but this would suggest that there wouldn't be a 16GB model of the LTE Nexus 4 if the 16GB Nexus 5 is sitting in the $349 price slot.
The page appeared on Google Play earlier today, and obviously confirm that the device will be named the Nexus 5. It also had the tag line for the device as "Capture the everyday and the epic in fresh new ways", which makes us believe the rumors of camera enhancements are true. The URL for the page also lists the Nexus 5 as "black 16GB", which would seem to imply that there may be other colors at some point.
The page has since disappeared, but not before the Nexus 4 also disappeared from the store. The Nexus 4 page is back up, but the device is still sold out. Looks like we should be seeing the Nexus 5 any day now. A new theory is pointing to
October 21st
as a possible announcement date.