New Nokia ads: A day with the Nokia Lumia 800 and a week with the Nokia Lumia 710
9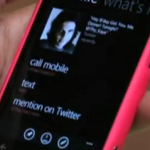 One complaint that Android fans have had for some time is that the carriers and manufacturers of Android flavored handsets are focusing on the wrong things during television commercials. The ads
never seem to show a particular model at work
. This is one thing that Apple has stressed from the very beginning with its Apple iPhone ads. From the ad showing the Pirates of the Caribbean clip reminding someone to make reservations at a seafood restaurant for calamari, to today's spot where
Siri shows a budding rock star the chords to certain songs
, the Cupertino based firm has always made a point of showing its smartphone in action.
Compare Apple's ads to the
traditionally science fiction spots used by Verizon and Motorola to sell its DROID line
. It really hasn't been until the latest Samsung ad for the Samsung GALAXY Note called "Meet the Note," that an
Android manufacturer has stopped to show off exactly what its phone can do
. And overseas at least, it looks like
Nokia is on the right path
with its Windows Phone flavored Lumia series.
Over in India, the Nokia Lumia 800 is featured in a spot starring an Indian girl named Kaya and we get to be a fly on the wall as she uses her
Nokia Lumia 800 over the course of a day
. It is not just any day, it's Kaya's birthday and she checks her social networks for b-day greetings. Finally, Kaya needs to pick a date for the evening, although we never find out whom she picks. There is a second ad that shows how Kaya uses her Nokia Lumia 800 at the office, handling reports and emailing them. It's a continuation from the prior spot so it is still Kaya's birthday and her boss let's her go early. Ahh, to be young and female in India with a Nokia Lumia 800.
Meanwhile, in the U.K., we get to see a
week in the life of Sandy
, a new smartphone user with the Nokia Lumia 710. Sandy says she likes the Windows Phone Marketplace, but then again, she has never seen more fully stocked online application stores like the App Store or Google Play. We also see this smartphone novice using Nokia Drive to navigate around London Town.
There are still quite a few cellphone users, almost 50% of them, still waiting to become smartphone users like Sandy. Add to that the number of iOS and Android users who for reason or another, are frustrated with their current platform and are looking for something new. These ads are
geared toward that group
which begs the question, if you were looking for a new mobile platform, would any of these ads make you choose Windows Phone? Would any of the three ads make you choose a Nokia Lumia model specifically?
source: WMPoweruser (
1
), (
2
)