Samsung heads to the street to challenge the Apple iPhone with the Samsung GALAXY Note LTE
99+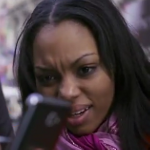 Samsung gave Android users a few hours with the
Samsung GALAXY Note LTE
to learn how to use the S Pen. These Android users then took to the streets of Manhattan to face-off against Apple iPhone users one on one. in one task involving the editing of a customized birthday message on each users respective device, the female using the Apple iPhone (4 or 4S) said she was "
Jealous
" and "
embarrassed
" because of the functions on the Samsung phablet that were not on the iPhone. While the GALAXY Note LTE user took the S Pen and put his head on his cousin's favorite NBA star (Jeremy Lin?), the iPhone user could only stutter and say that she couldn't do these things with her device. "
I'm not very happy right now, my phone can't do that
," she says. "
It's so depressing
."
Of course, apologists for Apple complain that Samsung took a power user and put him head to head versus a casual smartphone user. Regardless, the video continues a trend by Samsung to go
right after the Apple iPhone and its users
. Samsung also revealed another ad that does something that Android fans have been dying to see for years. This ad
simply shows off the features and functions
of the Samsung GALAXY Note LTE in action. Just like the way Apple's television commercials for years have displayed the Apple iPhone in action, Samsung's ad leaves you drooling in front of the television, wishing that the smartphone fairy would drop the Samsung GALAXY Note LTE right in your lap.
source:
Samsung