Motorola PHOTON 4G specs review
16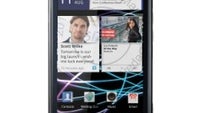 The
Motorola PHOTON 4G
is shaping up to be Sprint's alternative to the
Motorola ATRIX 4G
, yet it comes with an extra trick or two up its sleeve. Offering plenty of processing power and display real estate, the Tegra 2-powered device will definitely overshadow almost any other handset in the carrier's portfolio and will sit lined up right next to another highly acclaimed smartphone - the
HTC EVO 3D
. How can we be so sure? Let us go over the PHOTON 4G's specs and see what makes us think that way.
Design
Luckily, soon after its introduction, we had the opportunity to get our
hands on the Motorola PHOTON 4G
, albeit only for a short while, so we
do
have and idea of what using the smartphone actually feels like. While playing with the device, we were more than satisfied with the way it rested in our hand – sturdy and easy to grasp despite the fact that it packed a
spacious 4.3-inch qHD display
. We hope you would agree that high-end internals do not matter that much if a smartphone is not comfortable to use, so we are happy to say that the PHOTON 4G looks like a winner in the ergonomics category so far.
The cut off corners of the smartphone are another nice touch that we liked and it seems like their purpose is to make the device feel more comfortable to hold while playing video games or watching videos on its bright and vivid display. Or, if you prefer, you can simply pop out its
kickstand
and let the PHOTON 4G rest on the table while you watch a flick, listen to your favorite tunes through the phone's built-in stereo speakers, or check out YouTube's latest selection of lolcats.
If you are a fan of premium materials like brushed aluminum, for example, we will have to disappoint you as there is none of that seen on the PHOTON 4G, but nevertheless, the handset's body has a nice
soft-touch finish
added to its matte plastic body so it feels rather pleasant to the touch.
With its weight of 5.57 ounces (or 158 grams), we do agree that the Motorola PHOTON 4G is a bit on the heavy side. Being half an inch thick means that it is also slightly thicker than other smartphones in its category like the
Samsung Galaxy S II
or the
HTC Sensation 4G
, for example, but we are more or less fine with that as long as the device is easy to handle. We should also mention that behind its back cover hides a beefy
1700 mAh battery
rated for the impressive 10 hours of talk time.
Now that we know the Motorola PHOTON 4G should not leave you with a bad impression the first time you get a hold of it, it is time to take a peek under its hood and see what goodies hide in there.
Recommended Stories