LG Optimus 2X and Samsung Galaxy S screens put under a microscope, interactive tool visualizes why the PenTile matrix is bad for you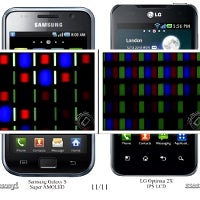 Creative Hungarian reviewers of the
LG Optimus 2X
have decided to enlarge with a microscope sections of the IPS-LCD and Super AMOLED displays on the Optimus 2X and
Samsung Galaxy S
, respectively, clearly showing the disadvantages of the PenTile matrix arrangement in the Super AMOLED technology.
A guy named Székely Zoltán has then created one awesome Flash-based interactive tool, which visualizes how the screens look like under eleven times microscopic enlargement for the review, and was reposted on GSM Arena, from where we are embedding.
Since
we pitted the other day
the Super AMOLED Plus screen on a
Samsung Galaxy S II prototype
, against the IPS-LCD of the iPhone 4, and the Super AMOLED on the Galaxy S, we decided that this great tool can demonstrate perfectly why some picky users scoff at the use of the PenTile matrix. It uses less subpixels per
pixel
to create an image, arranging them in a creative geometric pattern, inspired by the human retina, and the company that invented it was acquired by Samsung in 2008.
Click on the Galaxy S
or another phone to compare it, and then on the Android market icon with the flashing circle for a nice demonstration of the above-mentioned phenomenon:
This brilliant interactive tool of Mr Székely comes extremely handy in visualizing the disadvantages of the PenTile arrangement. It is clearly seen that when you start zooming into the individual pixels, the number of subpixels on the Galaxy S screen is way less than the number of subpixels that build the IPS-LCD display on the LG Optimus 2X, which uses a normal RGB matrix, despite that both are the same size and resolution.
The tool allows you to compare IPS-LCD with the other LCD variants, like Super LCD, too, for a better understanding of the technology behind them. LG's phone is used for a reference point here, since the tool is embedded into its own review on the Hungarian site for illustration purposes.
We wanted to show you how the PenTile matrix arrangement in the Super AMOLED displays effectively lowers the perceived resolution, making text and other details appear less distinct on the Galaxy S, then on the Galaxy S II, despite that they are of the same official 480x800 pixels resolution. The thing is that with the Super AMOLED Plus technology Samsung reverts back to the normal
RGB matrix arrangement
, which uses more subpixels per pixel, thus improving the quality of the perceived detail.
In fact, Sammy said that the Super AMOLED Plus display on the Samsung Galaxy S II has
50% higher subpixel count
than the display on the Galaxy S, and that's precisely because Samsung ditched the easier to produce PenTile matrix, and used a normal RGB arrangement for the
Galaxy S II
, which it calls
Real-Stripe
matrix.
For more information about the various technologies behind today's smartphone screens, you can read our in-depth article
here
.
source:
PDAFanClub
(translated) via
GSMArena