Motorola PHOTON 4G Hands-on
21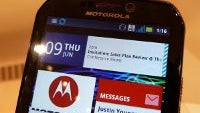 Gladly accepting their arrival in the high-end category, Sprint finally emerges with some recognizable and noteworthy Android powered smartphones from Motorola's camp that are sure to give customers a taste of what the longtime manufacturer is capable of delivering. In a sweltering day in New York City, the two manage to come together and announce the
Motorola PHOTON 4G
– a device that has some similarities to AT&T's Motorola ATRIX 4G.
Holding it for the first time, it employs a subtle design style similar to the ATRIX 4G, but thankfully enough, it feels rather
larger and more sturdy
. The increase in size is due to its much larger
4.3" qHD display
that instantly comes to life exuding some excellent looking visuals that will attract anyone. Additionally, we like the tough nature of the handset thanks to the
soft touch matte material
coating its sides and rear. Not something you see that often, it's suffice to say that some will be receptive to seeing the handset sporting a
kickstand
– so it'll work perfectly for those long periods of video watching.
Obviously, this is by far the best selection we're seeing on Sprint's lineup in terms of Android devices from Motorola. Packing some modernized amenities, it's undoubtedly going to be a huge competition to Sprint's other upcoming handset this summer – the HTC EVO 3D. Some of the PHOTON 4G's features include a 1GHz dual-core NVIDIA Tegra 2 processor, 16GB of internal storage, 8-megapixel auto-focus camera with dual-LED flash, 1080p video recording, and tri-band GSM radio. Needless to say, it's definitely nice to see this one being offered as a
world phone
for Sprint.
As for software, it's running the latest
light version of MOTOBLUR
that we're seeing being used by most high-caliber handset from Motorola's stable. Love it or hate it, it's running on top of
Android 2.3 Gingerbread
– so it'll still offer all the essentials. Furthermore, it's enabled to work with Motorola's nifty
Webtop app
, but it's only offered if you happen to use Motorola's HD Multimedia Dock or Laptop Dock, which of course, connects to the handset via the microHDMI port. No word on pricing or an exact availability date, but nonetheless, Sprint customers will have something to look forward to this summer either way.
Recommended Stories