Microsoft's Surface Pro 3 tries to belittle the MacBook Air in three new ads
37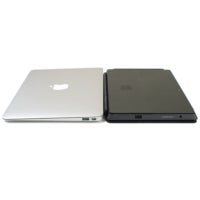 Microsoft pushes forward on the "
tablet that can replace your laptop
" tag line with its latest ads for the
Surface Pro 3
. After offering to
take MacBook Airs as trade-ins
for a brand new Surface Pro 3, the company now dials it up a notch by flaunting their latest tablet's features, which the Air does not have, on video.
In 3 short ads, Microsoft shows off the identical specs between the two competitors. Then it goes on to list the touchscreen, pen, laptop capability with the detachable keyboard (reminder: that's an optional $130 buy), full support for Windows 8 programs, etc., the punch-line at the end being "So, you're saying it does more than my Mac?".
This isn't the first time the Surface Pro 3 has been pitted against an Apple product. It was featured in a
video by tech writer David Pogue
, as the victor in a shin-kicking match between the iPad and the Pro 3. Not to mention it was actually compared against a Mac Air's weight at its very
launch event
, so we guess one could say that battling Apple products is the Surface Pro 3's ultimate destiny.
source:
Windows Phone Central