Tech pundit David Pogue has perhaps the most poignant take on the Microsoft Surface Pro 3
30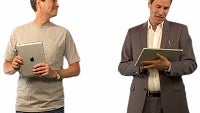 David Pogue is very well known tech journalist and has worked for bellwethers like the New York Times. Now he has run of the shop at Yahoo! Tech and has wide distribution beyond the geekdom that some of us may be more familiar with.
Pogue has already spent some time with the new
Microsoft Surface Pro 3
, he called it, "smart," and added that this may be the product that lifts the "Windows 8 curse." We will save the rants and raves for our own review, but Pogue summed his thoughts up quite eloquently in a 3-minute video that also hammers the
Apple iPad
mercilessly.
The Surface Pro 3 kicks things up a notch with a larger screen and thinner profile while providing full Windows 8 functionality along with the touch-friendly modern front end. Like the rest of the Surface line-up, the build quality looks solid, and the new 3 has an even better kickstand. The line of Intel chipsets will certainly provide efficient and prompt performance.
Such features are not inexpensive, we all know that, but when you consider the feature set and functionality, and how the
iPad
128GB edition tops out for more than what the Surface Pro 3 starts at, it should get a lot of people thinking more seriously about the Surface.
Credit where credit is due, Pogue drives it home by playing Apple at its own game using the old advertising motif used by Curpertino back in the iMac-PC comparison days.
sources:
Yahoo! Tech
via
WPCentral