Leaked ad shows off Huawei's new luxury smartwatch powered by Android Wear
18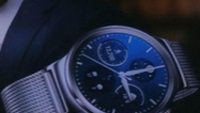 The Huawei Watch is the name of the manufacturer's first Android Wear powered smartphone according to a leak that reveals an ad for the timepiece. The ad is designed to announce that Huawei is positioning its wearable as a luxury item. The picture shows a well-dressed man (impeccably tailored) wearing the round-faced Huawei Watch. "
Timeless Design. Smart Within
," is printed below the photograph.
The ad says that the Huawei Watch is timeless due to its "
Classic design and impeccable craftsmanship in watchmaking
." And it is smart because of the "
State-of-the-art wearable technology, powered by Android Wear
."
Speaking of technology,
Huawei CEO Richard Yu hinted last year that the Huawei Watch would be a stand alone model
similar to the Tizen powered Samsung Gear S, which offers 3G connectivity. Considering that Huawei just
introduced a 4.5G LTE connected smartband
(which we will hear more about at MWC), there is no reason not to think that the Huawei Watch just might offer 4G LTE connectivity. Yu said that Huawei's watch would out do the Gear S and going with a 4G connection as opposed to the 3G used by Sammy's watch would be one way to make that statement true.
Besides the Huawei Watch, we should see Huawei introduce a couple of sequels at MWC. One is
a sequel to the TalkBand B1
, which is
a fitness band with a pop-out earpiece for calls
. The other sequel would be one for the large-screened
Mediapad X1
, which lives in the gray area between phablet and tablet. Sporting a 7-inch screen, this device has all of the features of an Android tablet, but also takes and makes phone calls.