Huawei introduces the first LTE powered smartband; device supports Huawei's 4.5G network
5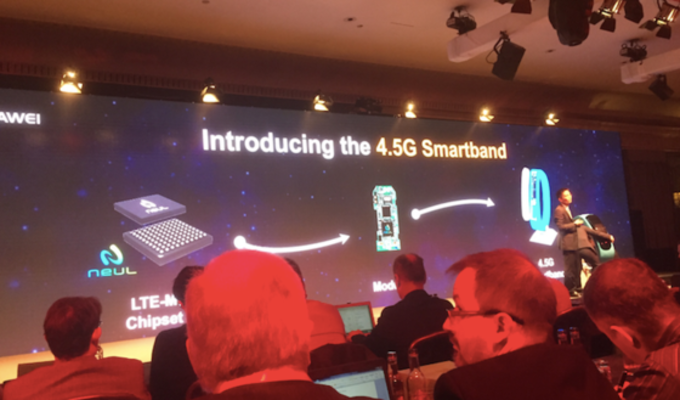 In London, Huawei introduces its new 4.5G smartband
On Tuesday, Huawei introduced the first smartband that offers LTE connectivity. But even more exciting, the band will support Huawei's 4.5G network which will rollout commercially next year. The band will track a user's fitness level and measures a person's heart rate. If it is similar to Huawei's current smartband, it should have a 1.4-inch OLED screen, NFC and Bluetooth connectivity, and be resistant to dust and water. The device will include an LTE-M chip produced by Neul, a company purchased last year by Huawei.
Huawei's 4.5G LTE network will be capable of producing data speeds as high as 1GB/sec and will help guide Drones and enable VR. Not surprising given its name, Huawei said that 4.5G is "in the middle 4G and 5G." Company president of products and solutions, Ryan Ding, says that the 4.5G pipeline represents the first time that a mobile network is not just focused on people, but is focused on "
people and things
."
"4.5G supports up to 100K per cell connections via LTE-M, 100 times that of 4G. LTE-M also provides better coverage. Receivers require just 1/100th of the signal of existing 2G system, 20dB gain, using low-power terminals."-Huawei
Huawei is expected to show off its new smartband at MWC in Barcelona. We should also hear more about the 4.5G pipeline at the event.
source:
TheInquirer
Recommended Stories