Huawei's first smartwatch is here: TalkBand B1 with 6-day battery life, fitness tracking and pop-out earpiece for calls
11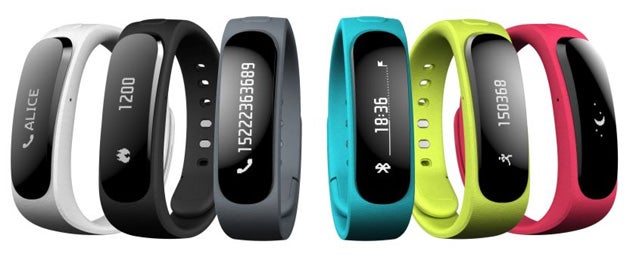 Huawei has just unveiled its first smartwatch, the Huawei TalkBand B1, a device with a tiny, 1.4" bendable OLED display, fitness tracking functions and a pop-out earpiece for voice calls. Neatly, the Huawei TalkBand B1 works with both Android (
2.3
Gingerbread and later) and iOS (5.0 and later) devices.
The TalkBand B1 features a six-day battery life courtesy of the 90mAh juicer inside it and the low power display. It supports NFC for easy sync and pairing with devices, and you can pop-out the attached earpiece to talk. The bundled-in earpiece is what makes the band itself is so thick - it measures 14.6mm. And talk time via the earpiece is quoted at the impressive 7 hours.

The 1.4" OLED screen itself looks more like displays on fitness trackers like the Nike FuelBand, and the TalkBand B1 overall looks much more like a fitness wristband than a watch. That's also backed up by its features - a step counter, tracking for distance traveled, and amount of burned calories. In addition, it can track your sleep and use that information to wake you up at the best time, without abruptly interrupting your deep sleep cycles.
The Huawei TalkBand B1 is coming to China in March, whereas internationally it will launch in Japan, the Middle East, Russia and Western Europe in Q2 2014. The TalkBand B1 price is set at €99 (the equivalent of $135).
HUAWEI TalkBand B1
HUAWEI TalkBand B1 features wireless calling with a Bluetooth™ 4.1 earpiece, up to seven hours of calls and 1.4-inch flexible OLED display. It supports Android 2.3+ and iOS 5.0+ compatible devices, and syncs effortlessly via NFC.
TalkBand B1 wirelessly tracks activity time and progress, including steps taken, miles covered and calories burned. It intelligently records sleep duration and quality, while the smart alarm and nap functions assist rest.
Weighing just 26g and only 14.6mm thin, TalkBand B1 features a bendable curve design with a removable 9.4g earpiece. The 90 mAh battery lasts for six days and charges in two hours using the USB connector.