LG USA posts a poll on Twitter, pokes fun at the headphone jack plight
15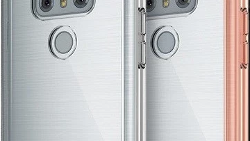 OK, the
LG G6
is coming and we know that. The company itself has teased the handset with an invitation for a February 26 event and an image, talking about a "
Big Screen That Fits
". Leaks so far suggest a full metal body with no modular or detachable parts, ergo — no removable battery. We've also seen curious reports about a 5.7-inch,
9:18 aspect ratio
display, water-resistance, and the leaked images thus far suggest that the dual camera at the back remains as a feature, but the module
will be flush with the phone's body
— no unsightly hump.
LG might also have some surprises up its sleeve — some bells and whistles, extra features, or just gimmicks added to the phone to make it more desirable, though, nothing has yet been rumored.
LG USA has now decided to post a teaser for the G6 in the form of a Twitter poll. The question is "What do you want the most in a smartphone?" and there are 4 options — a big screen, killer camera, better battery life (than what, LG?), and headphone jack. Yes, that's a stab at a horse that has been dead for 4 months now, but we digress.
Now, seeing as the G6 is due to be announced in just 3 weeks, we doubt this poll is an actual crowdsourcing of ideas for the new flagship. It looks much more like boasting of the phone's features. Let's see what each one means: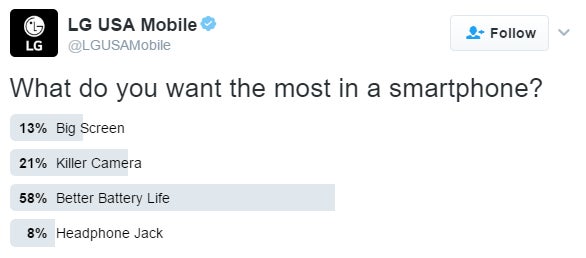 Big Screen:

It seems the 5.7-inch display rumors might turn out to be on point. LG used to be famous for having super-thin bezels on its G2 and G3 flagships, maybe it will get back to that design philosophy in order to make the G6 feel more compact, despite its gargantuan screen.

Killer Camera:

Seeing as the camera is one piece of smartphone hardware that still continues to dynamically improve on a year-on-year basis, it's expected that LG will advance its own shooter at least a bit. The G5 had a pretty good camera, but if LG is calling this next one "killer", it might be something really special.

Better Battery Life:

Over the past few years, LG has remained as one of the very few Android smartphone manufacturers that still make top-tier devices with user-replaceable batteries. Sounds great, sure, but on the other hand, over the same period, LG's flagships have been consistently outshined in the field of battery life by its competitors. This poll option seems to suggest that LG has made strides to improve the screen-on-time of its top-tier phone.

Headphone Jack:

The feature that's about to go extinct? We don't know, but we do know that we live in a period where it's a bragging point if your phone has it.

No Bootloops

: Oh, wait. This one was added by Twitter users commenting on the poll. Disregard it like you're a customer support rep and it's a ringing phone.