Japanese carrier Docomo prevents texting pedestrians from getting hurt with new "safety mode"
12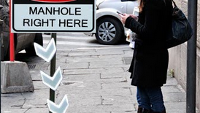 Starting today, Japanese carrier Docomo is bringing an end to the practice of texting while walking. While not as publicized as much as texting while driving is, emergency rooms have a number of horror stories about distracted cellphone owners who weren't aware of their surroundings while they were walking, because they were texting. People have been hit by cars and in May 2012,
a city in New Jersey banned the practice
. A study that we told you about nearly a year ago said that
texting pedestrians were 3.9 times more likely to disregard common safety guidelines
.
Docomo's answer is to offer a "safety mode" which Android users have the option of activating. Those that choose to use the mode will see a message if they try to use their device while walking. The message reads, "
Using your smartphone while walking is dangerous. The phone senses you are walking. Please stop
." Tapping "
close
" on the warning message will give the user an extra 10 seconds of use, while pressing the power button will give the user 5 extra seconds before the device stops working.
The new mode can be set for three different degrees of sensitivity to determine if the user is walking: high, medium or low. The carrier is spending the big bucks to promote this in Japan using a cartoon image of a distracted cellphone user about to get rammed by a bus.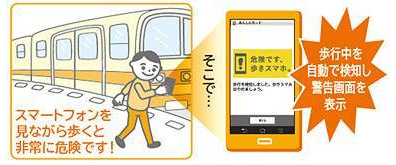 Docomo's Safety Mode stops texting while walking
source:
Docomo
(untranslated) via
TheRegister