NJ town bans texting while walking
23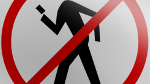 A rise in jaywalking combined with 20 incidents of cars hitting pedestrians so far this year, has led Ft. Lee NJ police to clamp down on those texting while walking. The cops are
now handing out tickets to those moving their thumbs and feet at the same time
. Sue Choe, a Ft. Lee resident, says that while she does text and walk "
all the time,
" she continually looks all around and does not constantly keep her head down. According to the cops, Choe would be put on the top of their Most Wanted list. Ft. Lee Police Chief Thomas Ripoli said about these jaywalking texters, "
It's a big distraction. Pedestrians aren't watching where they're going. They're not aware
."
FLPD is cracking down and are looking out for "dangerous" walkers who are distracted and not following the rules of the road. Pamphlets have been disseminated with information about the new focus on texting and walking. Those found in violation of the law
can be fined as much as $85
and in the last 6 weeks, there have been 117 tickets issued.
source:
NYPost