Distracted walking on the rise, texting, talking and more...
8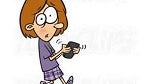 Observers recorded crossing behaviors of pedestrians at 20 high-risk intersections in Seattle during random time windows in 2012. They looked at various behavior patterns as well as demographic information of people while they crossed, whether they were talking on the phone, texting or listening to music.
The study was performed by the University of Washington, and the researchers observed 1,102 pedestrians. They determined that 29.8% of all pedestrians were engaged in some type of distracting activity while crossing. Text messaging accounted for 7.2% of the distractions, talking on the phone was 6.2%.
Crossing time increased while texting, talking on the phone or talking with a friend. The observers determined that texting pedestrians are 3.9 times more likely than undistracted pedestrians to disregard common safety guidelines, like looking both ways or disobey a signal. However, pedestrians that were listening to music crossed intersections on average a half-second quicker than undistracted pedestrians.
Getting stuck behind someone on the sidewalk while they meander around while they are trying to text can be frustrating. The same can be said for getting stuck behind someone for the same reason while trying to cross the road, but it is potentially a lot more dangerous. Just remember the basics, pull your head
out of
up and take a look both ways so you do not end up staining a car's windshield.
source:
TechCrunch