It's probably wise to hold off on a smartphone purchase right now
28
This article may contain personal views and opinion from the author.
With so many excellent smartphones available on the shelves at the moment, it's understandable that folks that are looking forward to upgrading their phones would want to get a new one as soon as possible. And rightfully so – so far, 2017 has been a rather good year for the industry, with almost all the major manufacturers coming up with rather successful offerings.
Be it a glossy
Galaxy S8
or HTC U11, a solid LG G6, or even a specs-busting
OnePlus 5
, you will be hard-pressed to find an inherently "flawed" flagship smartphone. Meanwhile, the mid-range and low-end segments are pushing boundaries in their respective fields. The saying that
"cheap phones are getting better and good phones are getting cheaper"
is still more than relevant and will likely continue to be the norm in the near future, meaning that you can hardly go wrong with any upper mid-range handset.
However, if you're about to get a new phone today, tomorrow, this week, or even in the coming month, don't, or at least rethink your decision wisely before jumping the gun.
Apple, Samsung, LG, and Google's upcoming phones are worth the wait
But why? Aren't we contradicting ourselves by carefully explaining how the current selection of smartphones on the market is generally a jolly bunch and immediately after that advising you to keep your hard-earned money in your wallet? Let us elaborate and explain our reasoning. There's actually only one reason why you should do that – there are just too many exciting handsets coming in the next few weeks that will likely define the coming years for the smartphone industry.
Thus, holding off on a new purchase and waiting to see what the big names are cooking might be a rather wise and intelligent decision. Of course, you can counter us with the ever-present argument that "upcoming stuff is always more exciting than all the currently-available stuff", but the second-half of 2017 is a shaping up to be a particularly exciting time window for smartphone releases.
In about three weeks, Samsung will announce the
Galaxy Note 8
, an anticipated handset that has the arduous mission of making it up for the Galaxy Note 7 snafu. By all accounts, this one will most likely be among the top phones for the second half of the year, reiterating the features that made the Galaxy S8 and S8+ generally well-received by the majority of consumers and reviewers alike. And that's inspiring - Samsung has the uncanny perk of accomplishing great things when it's "hungry".
Just a week after the Galaxy Note 8 gets unveiled, LG will show us what it has been cooking. The dish of choice is none other than the LG V30, a follow-up to the excellent V10 and V20 that might, however, ditch the signature dual ticker display layout for a more traditional configuration. Just like the Note 8 is expected to be inheriting a whole lot from the Galaxy S8 & S8+, the V30 will reportedly look an awful lot similar to the LG G6, which is great.
Then,
IFA 2017 will take place
. It's the second-largest mobile trade show and is expected to see the arrival of a ton of new devices. Granted, few of them will be high-profile flagships, but we shouldn't forget that mid-range and entry-level phones have rather large audiences on their own as well.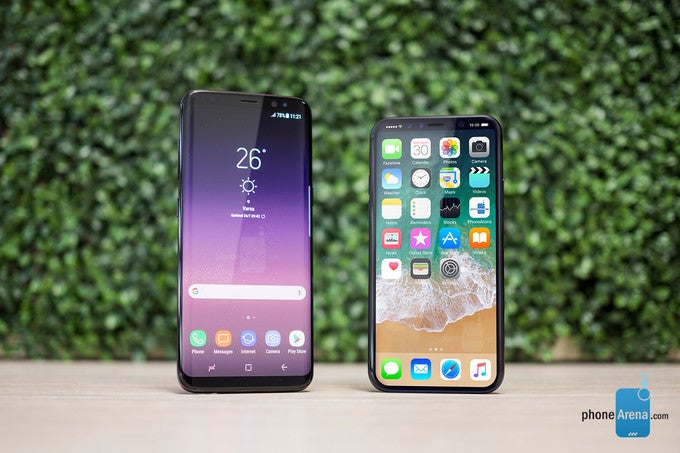 The silver lining of all is Apple's largely anticipated September event that will hopefully treat us to three new iPhones and who knows what else. Hate it or love it, the iPhone is Apple's bread and butter and is the single most influential and industry-shaping phone out there. It would be wise to wait and see if all the rumors pertaining to the anniversary edition
iPhone 8
will hold water or turn out to be complete flukes. No second opinion about it – whatever phone gets unveiled by Tim Cook & Co on stage will likely sell in the tens of millions, and with so many
saucy features incoming
, we can't wait to see what's Apple's vision for the future.
It's probably wise to hold off on a smartphone purchase right now
And there you have it – with so many exciting handsets coming just around the corner, it will be a crime to not wait and see what's coming our way. We bet that at least one of these will tick all the boxes on your criteria list and satisfy your consumerist lust for having the latest and greatest gadgets.
With all that said, what's the phone that you're most excited about?
Further reading: