Google Pixel 2 and Pixel XL 2 rumor review: Design, specs, features, price, and all we know thus far
50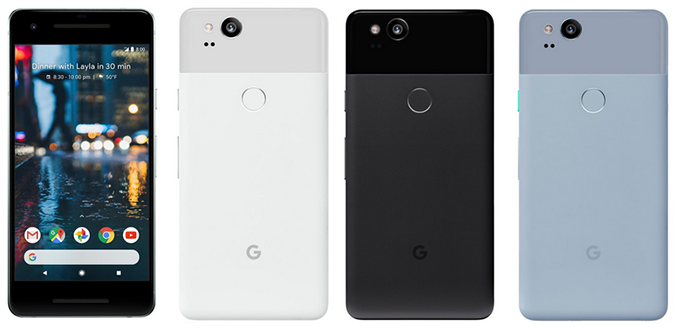 Despite the availability issues, it's pretty safe to consider the Google Pixel and Pixel XL as two of the better top-end phones launched last year. Their most profound feature was the camera, which really set a high bar for all other flagships to jump over.
Of course, it doesn't take a genius to realize that after the good start, Google will be willing to use the gained momentum and one-up itself and the competition in 2017 with the second generation of Pixel devices. Right now, we are not exactly sure if we will get treated to 2 or 3 new handsets as we're hearing conflicting rumors regarding the exact number, but it's certain that Pixel fans will get their fix in a couple of months' time.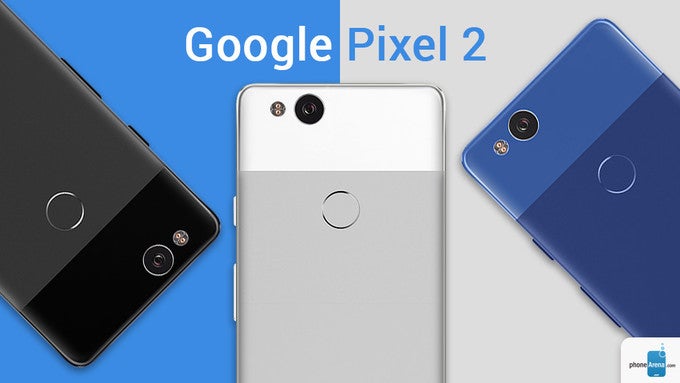 Naming and manufacturer
Initially, we've been hearing hearsay that Google's working on a few devices: a so-called "
Walleye
" to succeed the Pixel, a Pixel XL successor dubbed "
Muskie
", as well as a third, larger, all-new handset rolling under the "
Taimen
" moniker. We've been swearing by these rumors for a couple of months, but a recent one that sounds pretty plausible wants to shred them to pieces - it tries to convince us that Google has scrapped the idea of releasing a whole lot of three new devices and has reportedly opted for announcing "merely" two phones sometimes this fall. As per the rumor, Muskie has been scrapped in favor of the Taimen, which is mildly intriguing due to several reasons, all of which will be addressed below.
Now, last year's Pixel and Pixel XL were the result of a collaboration between Google and HTC, which had the responsibility of actually manufacturing the devices. Rumor has it LG has been chosen as this year's contractor for the second-gen Pixel, which is not surprising us at all – Google and LG have a long and fruitful history of collaborating on the Nexus family of devices.
It's worth mentioning that with the Pixel lineup, Google has full creative control over its phones' design. The Pixel and Pixel XL were not based on a pre-existing design, so we probably shouldn't expect this year's Pixels to be dead ringers of the LG G6.
Design

So far, we merely have a vague idea what the Pixel 2 and the larger Taimen might look like. Of course, there are renders based on the usual rumors that a Google might be exploring the realm of bezel-busting handsets with an exorbitant screen-to-body ratio, but one can never know. Granted, a Pixel phone with such a design will most likely look great, especially when compared with last year's first batch of Pixel phones - admittedly, those two were not
that
inspiring in terms of their looks and raised a few eyebrows for all the wrong reasons.
According to some recent rumors, only the larger "Taimen" could be sporting a bezel-less design, while the smaller-sized handset is likely to retain the general looks of last year's Pixel. Sorry, bezel haters.
Now, while we have nothing concrete about the design of the Walleye, we've heard through the grapevine that the Taimen is about to feature such bezel-slimming design that will make it relevant to the contemporary industry trends.
Admittedly, it will be somewhat weird for Google to bring such a massive design overhaul to only one of its new devices, but we shouldn't rule out that possibility.
There could also be a pair of stereo front-firing speakers on the Pixels.

This was implied by one of the recently-leaked real-life images of the Pixel, though it remains uncertain if both devices will sport these or only the larger one will have the honors.
Now, supposedly, both the Google Pixel 2 and Pixel XL 2 will be water-proof phones, which will be a great feature to have and put in on par with the rest of the top-shelf devices out there.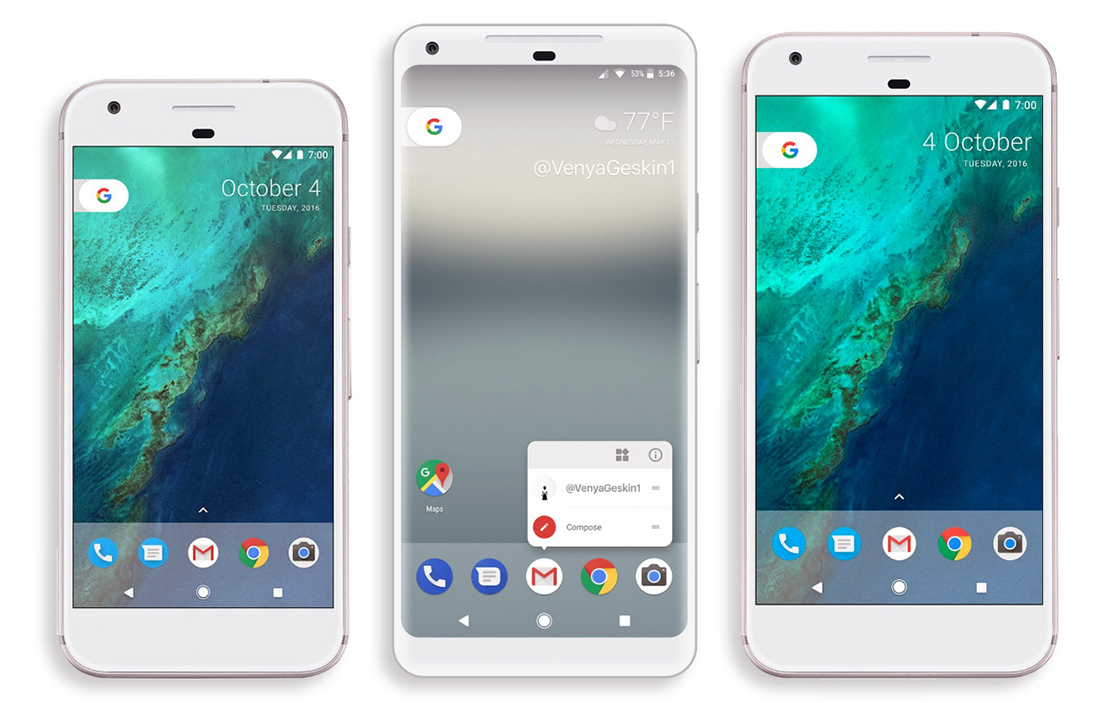 Google Pixel, Google Pixel XL 2, Google Pixel XL
Display
The smaller upcoming Google handset is expected to boast a 5-inch screen, whereas the larger phone is reportedly boasting a large 6-inch display. Just like the Google Pixel and the Pixel XL, El Goog's next phones are going to boast OLED displays as well. We guess it's true when they say
"once you go OLED, you never go back"
. However, the supplier of the panels themselves could be different - last year, Google partnered with Samsung Display, but this time around, LG Display could be getting a piece of the cake.
Google has also prepped around $880 million to invest in LG Display, which has been wooed as a possible contractor, in order to secure enough OLED display panels. If the South Korean company accepts the offer, Google could increase the size of the investment depending on the details of the contract, such as supply conditions.
The Pixel 2 XL is said to feature a 5.99-inch 1440p OLED display with a taller, bezel-less screen, while the Pixel 2 is said to have a 4.97-inch 1080p OLED screen with bigger bezels. This falls in line with what we've heard
Hardware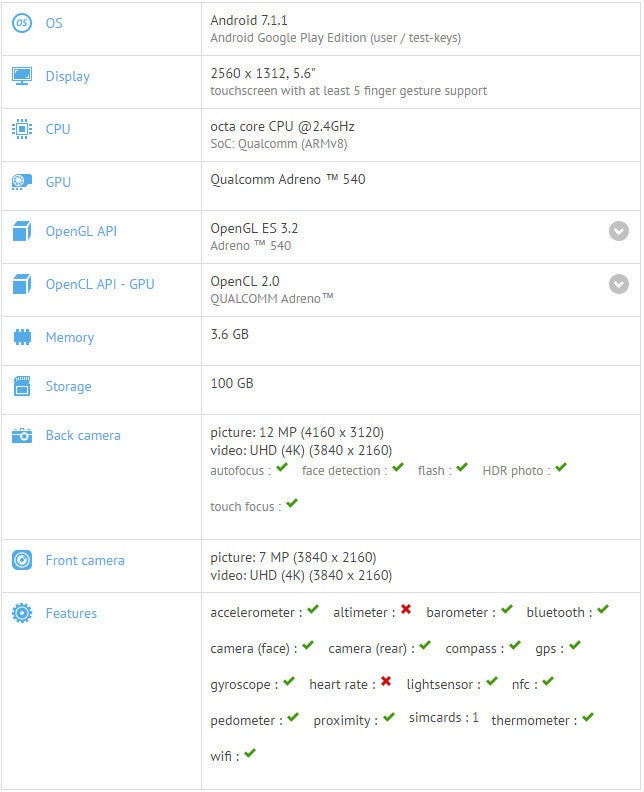 Alleged Pixel 2 Taimen becnchmark screenshot
Remember that GFXBench screenshot we mentioned earlier? Well, aside from the display resolution and aspect ratio, it's also giving us a sneak peek at the hardware that will potentially make it inside the next Pixels.
The 5.6-inch Taimen seems to be powered by none other than the Qualcomm 835 chipset running ablaze at 2.4GHz and paired with some 4GB of RAM for excelling multitasking purposes. However, there some hearsay that the Pixels could be the first phone to arrive with the Snapdragon 836 chipset on board. As this chipset is not official yet, such a move would make the Pixels the pioneering Snapdragon 836 devices out there.
An Adreno 540 GPU holds the promise of crushing through any game you might throw at it, and finally, we seem to have around 128GB of native storage aboard the Pixel XL 2 and 64GB/128GB of storage for the smaller Pixel. Now, these rumored specs sound awfully convenient and logical, but there's always the chance of things not turning out exactly as we expect them to do. Given that Google is unlikely to announce and release its upcoming Pixel phones until this fall, there's always the chance that a speedier chipset might find its place within the confines of the Pixel smartphones. We also heard that only the large phone could feature a 3.5mm audio jack, whereas the small one will be ditching that one, quite possibly due to limited space issues. That still holds true as of August 2017, as we're still hearing that Google might be looking to ditch the traditional audio interface on its upcoming Pixel phones.
Camera
We feel like it would be awkward to once again address that same screenshot we've been mentioning for a while now, but alas, that's exactly what we're going to do. According to it, we are about to have a 12MP snapper at the rear of the Taimen, whereas the selfie camera would likely weigh in at 7MP, which might seem like a pretty lowly resolution, but it's more than enough for social media.
So far, we have no concrete evidence that points out the next round of Pixels could feature dual-cameras. There's always the possibility, though, but sadly we wouldn't know until the phones become official... or a grander leak comes along.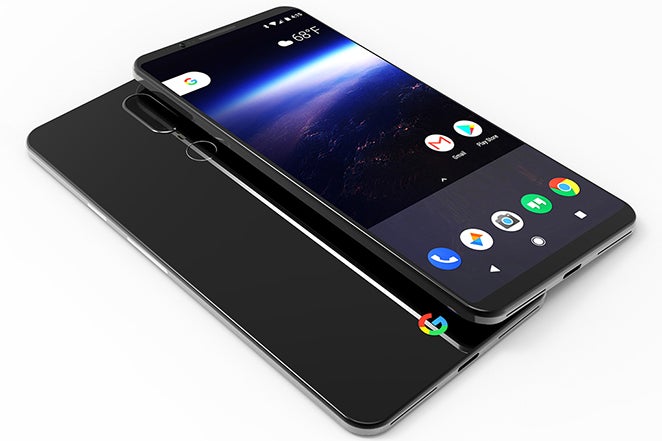 Software
Being Google's own phones, the next-gen Pixels are unsurprisingly going to showcase the next version of Android, which is currently only known as "O", no doubt about it. Just like last year's Pixels, we have a hunch that the new phones will have a couple of exclusive software features that will set them apart from other bone-stock Android devices. For example, the Google Assistant was initially a Pixel-exclusive and only later on arrived on other Android phones.
According to some recent leaks, the next Pixels might be getting Always On display functionalities. A string in the code inside Android O Dev Preview 3 hint at the next Pixels having Always On displays.

String from Android O Developer Preview 3 hints at Always On ambient display screen for next-generation Pixel phones
Price & release date
October 4 - that's the date you've been looking for. Google has nonchalantly revealed this in a series of promotional posters across a bunch of US cities.
The Pixel XL 2016 was launched for prices starting at $769, so maybe that's also the starting price of its successor? Unfortunately, that's not the case, as the new handset will cost a bit more.

According to Droid-life, the Google Pixel 2 XL will be offered for $849 (64 GB version), or $949 (128 GB version). This puts the Pixel 2 XL 128 GB right next to other ~$1,000 high-end phones like the Samsung Galaxy Note 8 and the yet to be launched Apple iPhone X.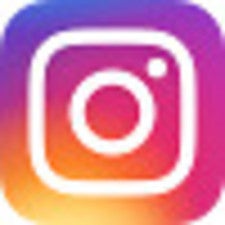 PhoneArena is on Instagram
. Follow us to stay updated with fresh news and flashy media from the world of mobile!