Intel goes mobile with Atom Z2460 and this time it's serious
19
Intel has been flexing its muscle at the mobile market in the last five years and after a couple of failed attempts to draw phone makers and platforms to its hardware, ARM clearly has the head start. Intel tried its best with MeeGo, but after Nokia shockingly turned its back on the platform, it's been practically forced to
switch its focus almost fully on Android
. Good news is that this time it's got both Google's support, the partners and the hardware reference platform to really make an entrance in the mobile market.
Medfield and Intel Atom Z2460:
It's first bid is the Medfield platform, now referred to as the
Intel Atom Z2460
specifically designed for smartphones and tablets. It comes with a single-core, 32nm processor with 512KB of L2 cache, supporting dual-channel memory and clocked at 1.6GHz and coming with hyper threading.
a world of quad-core chips
at first glance, the initial benchmark scores on the reference platform will quickly make you reconsider your doubts - the CPU performance of the Z2460 easily beats the Samsung Galaxy Nexus with its dual-core TI OMAP4460 and the A5-based iPhone 4S in terms of JavaScript performance. So overall, it's safe to say that with hyper threading, Intel has managed to outscore dual-core Cortex A9-based chips with its single-core processor, at least in the most common non-intense use scenario.
In terms of
graphics
, it's not all that impressive, but the current PowerVR SGX540 GPU (the same one as in TI OMAP4460) included is still on par with most of the competition. It can decode and encode 1080p video at 30fps, and expectations are that by the end of the year Intel could bundle in a more powerful graphical unit.
Why is it any different now?
But Intel seemed to have had the right hardware even earlier, so
why is it any different now?
There's a couple of reasons.
The first and most important one is that
Google
has now optimized Android for Intel silicon, and Intel has also centered its attention on Android fixing bugs and tailoring the platform to its architecture.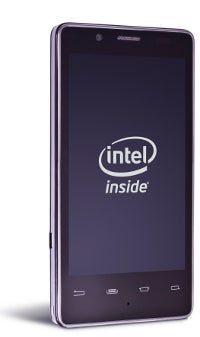 Secondly, with that focus came a ramp up in the resources the company invested in its mobile platform. Intel's mobile chief Mike Bell was given complete freedom to craft the best engineering team picking talent from everywhere within the company. This has resulted in the
solid reference platform
that Intel shows at CES - a fully functional device that answers criticisms about performance and power consumption.
This reference platform will save partners who choose to use it plenty of engineering time and effort, and allow them to focus on customizing the software (if they wish so). The platform itself won't be offered to end-users, but looks very stable, responsive and an excellent start. It arrives with a 4-inch screen with a resolution of 600x1024 pixels, support for 1080p videos shot at 30fps on the 8-megapixel camera and processor clocked at up to 1.6GHz. The reference platform scored a solid 3,800 in Quadrant.
Most importantly, Intel claims to have finally
busted the power consumption myth
and promises six hours of video playback, 45 hours of music and 14 days of standby time on a single charge. The first Intel-based Android smartphone, the
Lenovo K800
, is expected to use this reference platform.
The one big problem that Intel is still facing is
app compatibility
. In September last year, Intel and Google announced a partnership allowing devs to address both ARM and x86 architectures when compiling apps, so all recent applications should work without a problem.
We have a problem, though, when running older games and apps. You could argue that all Android applications run in a virtual machine, so they should be platform-neutral. But then again, most intensive 3D games do refer to native ARM libraries. Intel estimates that some 25% of all Android apps won't be compatible and that's where the crux of the problem is. For them, the company says it will do binary translation of the native code on the fly and is painting a rosy-colored picture of the performance of those translated apps, but we'd reserve a fair amount of skepticism until we see such apps run smoothly.
The other big problem might come from
the carriers
. If Lenovo and Motorola release their first Intel-based handsets by end-2012, they won't support LTE. Intel's reference design comes with an Intel 6540 HSPA+ modem and there are no details about when can the first LTE-enabled chips comes. US carriers like Verizon have been very specific about their push of LTE, so the lack of 4G LTE connectivity might prevent devices from landing on some carriers.
ARM
has confidently stated that
Intel will still face power consumption issues
. While the power efficiency of the Atom processor seems nearly proven, it'd be interesting to see how the system performs and whether it will live up to expectations.
Overall, it's been a long journey in the dark tunnel for Intel until now it starts to see the light. With a solid reference platform to prove its architecture can stand its ground, some partners and the focus on Android, we can only look forward to seeing the actual devices. The actual release is still months away, plenty of time to make up our minds, isn't it?