ARM CEO criticizes Intel's Medfield processors: "roughly good enough"
10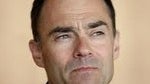 During an interview with
Reuters
at CES 2012, ARM CEO Warren East shared his thoughts on the Intel Atom Z2460 processor, codenamed Medfield. And as you might expect, he wasn't too impressed with it.
While admitting that Intel is a
"serious competitor"
on the silicon market, East pointed out that the company's success on the smartphone and tablet arena will be hindered by one major flaw – power efficiency. Below are his exact words:
"They (Intel) have taken some designs that were never meant for mobile phones and they've literally wrenched those designs and put them into a power-performance space which is roughly good enough for mobile phones,"
Interestingly, this isn't the first time when we hear that power efficiency could be the weak spot of Intel's Medfield processors, which are supposed to be optimized for smartphone and tablet use. While
those early benchmarks
showed that the chip is capable of delivering more oomph than the ARM competition, it used up an unacceptable amount of power. On the other hand, that
Intel Android Smartphone reference design
was listed with a 14 day stand-by time and was supposedly capable of delivering 6 hours of HD video playback, which are not bad figures at all.
Well, how power efficient the Intel-powered smartphones are will become apparent once we get to take one for a spin. And the first ones in the bunch
will likely carry a Motorola logo
.