Lenovo K800 hands-on
6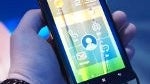 Everybody seemed to get a little excited when word broke of Lenovo's intentions to create a smartphone that is powered by Intel. Well, that day is here and we were able to give the hands-on treatment to the
Lenovo K800
which is an Android smartphone fueled by
Intel's Medfield processor
.
Let's start this off by saying that the K800 is far and away better than the K2 and the S2 that we already spent time with. It is a bit on the chunky side, but we've seen larger handsets so we can't complain too much. It
feels like it is put together well
so we can forgive the heft. The back of the K800 has some angles that make it a little easier to hold, although we couldn't get the full feel for it because of the security device attached to it.
The massive
4.5-inch display on the K800 is great
. It packs a
resolution of 1280x720
and has sharp text as well as bright and vivid colors that we missed out on with Lenovo's lower-end smartphones. Viewing angles were good and overall the display was just a pleasure to gaze at. It was just a rich experience that was hard to pry our eyes away from. So in terms of display, Lenovo gets some serious points.
On the back of the K800 is an
8 megapixel camera that also packs a dual-led flash
. They didn't say what its video recording capabilities are, but it is more than likely going to shoot at 720p HD. we wanted to test out the camera, but due to lighting we wouldn't have been able to generate an accurate representation of it.
There are some things we didn't like about the Lenovo K800, however and it mostly has to do with their UI. While our experience with Lenovo's
Clover user interface
was better than it was with the S2 and the K2, we still found it cumbersome, although it is a refreshing change of pace. Intel's
1.6GHz processor
made scrolling between screens and opening apps to be
smooth for the most part
, but we've seen other Android Gingerbread handsets powered by what is supposedly inferior Snapdragon processors respond with more fluidity and consistency. This is no way a knock on Intel, but we just expected more and until we see it on another handset, we can't really say anything good or bad about it.
From top to bottom the
Lenovo K800 is a solid smartphone at first glance
. Clover isn't awful, but it holds back what should be a much better device. Perhaps a little fine tuning here and there and Lenovo can turn Clover into something special, but it just isn't there yet. We were excited to play with a device packing the Intel Medfield processor and we are excited to see what other devices may feature it in the future. In the meantime, tell us what you think about the Lenovo K800 in the comments below.