Unless the U.S. folds like the Mate X, Huawei's niche phone will not use Google's version of Android
13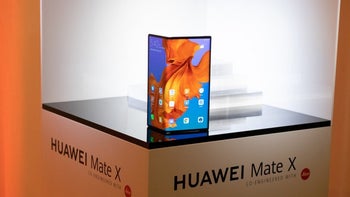 Unlike the Galaxy Fold which closes inwards, the
Mate X
closes outwards. This allows the device to sport two displays when the device is closed; there is a 6.6-inch front screen with a resolution of 1148 x 2480. The rear display weighs in at 6.4-inches and carries a resolution of 892 x 2480. When the Mate X is fully open, it becomes an 8-inch tablet with an AMOLED display carrying a nearly square resolution of 2200 x 2480. Originally expected to be powered by the home grown Kirin 980 chipset,
Huawei has decided to equip the device with its latest cutting-edge Kirin 990 SoC
, which includes an integrated 5G modem.
One analyst says that the ban could lead Huawei to ship 30 million fewer phones out of the country this year

Even after you throw in 8GB of memory, 512GB of storage and a 4500mAh battery, you still have to wonder who will pay the equivalent of $2,600 USD for this phone. That is especially true now that it appears as though the Mate X will not be licensed to use the Google Play services version of Android.
According to the Nikkei Asian Review
, neither the Mate 30 series nor the Mate X will be able to use this version of Android because of Huawei's listing on the U.S. Commerce Department's Entity List for security reasons; this prevents Huawei from accessing its U.S. supply chain which includes Google. It also means that Huawei's new phones won't be able to use Google's core apps like Google Maps and Gmail. Earlier today, we told you that
Huawei is reportedly in talks with ProtonMail
about using its encrypted email app as a replacement for Gmail.
The report notes that Huawei's sales outside of China are bound to be impacted by the lack of Google apps on the Mate 30 series and the Mate X. One analyst in China says that overseas shipments will drop by 30% this year. Considering that last year's tally of 206 million handsets shipped was pretty much divided in half between deliveries in and out of China, the ban could cut shipments by 30 million phones in 2019. Another report, from researcher IHS Markit, predicts that Huawei will ship 13 million fewer phones outside China this year delivering a total of 88 million handsets outside of the country. For the first half of this year, the company was able to ship 118 million units, good enough for second place worldwide and ahead of Apple.

Without the ban, the manufacturer was expected to take over the top spot from Samsung during the fourth quarter. But that was based on strong global sales of the Mate 30 and
Mate 30 Pro
. Sans the Google Play services version of Android driving the line, those outside of China might not be as interested in the device. Inside China, Huawei is expected to continue blowing away the competition especially with a renewed sense of patriotism from Chinese consumers. Nonetheless, about three weeks into the ban,
Huawei admitted that it wouldn't be able to catch Samsung this year
.
The Mate X was never expected to really contribute to Huwaei's rise to the top when it was first introduced in February. That's because the foldable phone segment of the smartphone market remains unproven and expensive. And it also is a 5G phone which limits its usefulness right now anyway. Surely Huawei doesn't plan on rolling a large number of Mate X units off of the assembly line. The Mate 30 range is another story altogether. How well each of these models do will give Huawei an idea about its future without Google.