Holiday gift guide 2014 – tablets
18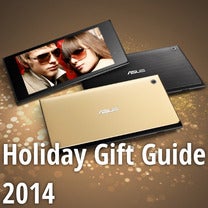 Fact: for every 10 minutes spent shoveling snow, your body consumes as much energy as it takes to recharge an iPhone two and a half times. Okay, we totally made this up – clearing the driveway in the winter is much more intensive of a process.
Cheesy jokes aside, the holiday season is almost upon us. Pretty soon, we'll find ourselves spending quality time and exchanging gifts with friends and family. And speaking of gifts, you know what makes an awesome holiday gift? A tablet! They're not only pretty useful, but they're also universal – anyone, from kids to their grandmas and grandpas, would be happy to receive one for the holidays.
So as you've surely figured out already, our second holiday gift guide is dedicated to tablets. As we did in our
holiday gift guide on smartphones
, we've split our recommendations into two groups – one where we highlight the best tablets you can possibly get regardless of their price, and another where we've grouped those few tablets offering great value at a relatively low cost.
Now feel free to browse through our 2014 holiday gift guide on tablets. Which one would you pick for a loved one? Which one you'd love to receive as a gift? Let us know in the comments!