Holiday gift guide 2014 – smartphones
14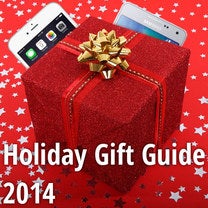 Can you hear it? Can you feel it? Can you sense its presence in the air around? That's the holiday season nearing, and you surely know what this means. It is the year's most joyful time – time to share meals, to have fun, and, of course, to exchange gifts with loved ones.
But picking the right gift can be quite a challenge, even if you know the person really well. That's why we thought we'd come to your aid with a series of posts highlighting the coolest smartphones, tablets, and accessories you can possibly pick. Today's category – smartphones.
For this year's holiday shopping guide on smartphones, we've chosen to go with two categories – one dedicated to the best smartphones you can possibly get regardless of the price, and another where we've put some attention-worthy yet budget-friendly handsets. Keep in mind that while the phones have been selected with the US market in mind, most of the offerings you'll find below are available internationally.
So, which phone would you buy for a family member or significant other? Which would you love to receive as a gift? Let us know in the comments!
Premium phones