Here are 6 great iPhone SE alternatives (but none are as compact)
99+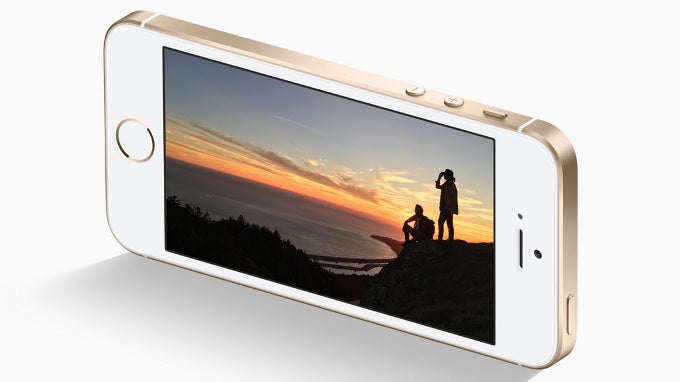 Starting today, the Apple iPhone SE is now up for pre-order in the US and most Western markets.
And it's quite the unique phone: a 4" modern smartphone these days simply does not exist on Android. None.
There is NO 4" Android phone. However, there are some good ones under $400
However, there must be some alternatives? After all, the iPhone SE (where 'SE' stands for 'special edition') is not only small, it's also affordable: with a starting price of just around $400. Under the hood, it also packs top-notch hardware: the Apple A9 chip and Apple's best 12-megapixel iSight camera, all components in the high-end iPhone 6s.
So let us think: what are we looking for when we search for iPhone SE alternatives? We are looking for devices that are both affordable and relatively compact. With our criteria now all clear, it's time to check out the list of available options: Android phones at around $400 with a compact style and modern hardware.
#1: Samsung Galaxy S6
If you're not following the market closely, you'd be surprised how quickly one of last year's best phones, the Galaxy S6, has dropped in price. In fact, it's just a bit more expensive than the iPhone SE now: you can get it for $50 on a contract, while the iPhone SE requires zero dollar down payment. The Galaxy S6 at its base version also provides double the storage with 32GB of internal capacity, a neat wireless charging option, and Samsung Pay that works at many more places than Apple Pay. What's more, the Galaxy S6 has also been updated to the latest version of Android, 6.0 Marshmallow, it sports a very fast system chip and one of the best cameras out there.


#2: LG G4
The LG G4 has dropped in value even further: a year after its launch, you can now get it for free on contract. In fact, if you're shopping for an unlocked version of the phone, the LG G4 is around $50 more affordable than the iPhone SE. It might not be as small, but it's one of the most compact 5.5" phones out there, it comes with the benefit of a very nice, warm-feeling leather back cover, it features one of the best cameras on any smartphone ever, and it features the expandable storage and removable battery options that the Apple iPhone lacks.
#3: Nexus 5X
The Google Nexus 5X might not be super compact, but it checks the bill: it sells for a much more affordable price than the iPhone SE and comes with not only a pure version of Android, but also one that works impressively fast. Yes, while there were some notable issues with the interface and the speed of the camera in the beginning, Google has recently pushed an update that fixes a lot of those, and the Nexus 5X experience is now much faster. Unlike the iPhone SE with its slower, first-gen Touch ID sensor, the Nexus 5X features an impressively quick fingerprint reader on the back of the phone that works like a charm, it's got a very good camera (just make sure to use the HDR+ mode for most shots), and has a front-firing speaker that is a nice extra.
#4: Xiaomi Mi 5
At an official retail price of some $300 in China, the only bad thing about the Xiaomi Mi 5 is that it's not officially available in the United States and Europe. And yes, you can import it, but it's a tedious process, the price usually goes up to around $400, and you won't get many essential 4G LTE bands. Quite the list of disclaimers. Still, we feel the Xiaomi Mi 5 is worth mentioning. It is the cheapest phone with the latest Snapdragon 820 system chip, the only current piece of silicon that truly goes neck-to-neck with the Apple A9 and even beats it in many regards. The Mi 5 has also got an excellent camera with an optical stabilization system that beats most phones, and a very feature-rich MIUI custom interface. If you want to be different than all the rest, the Mi 5 is definitely a good option that is cheaper than the iPhone SE and will fit the bill in terms of performance.
#5: Sony Xperia Z5 Compact
All aforementioned options were not really compact enough to go on an equal footing with the Apple iPhone SE. There is one Android phone that gets closer than the rest, though: the 4.7" Xperia Z5 Compact. If it was a great phone, it would easily be our number one pick here, but problem is that it's not. It has a terribly thick profile that does not feel good in the hand, it is not among the fastest and its cameras is not on par with the best. Still, this is not to say that it is a bad phone. It is just not excellent. If you value compactness, though, you should definitely consider it.
#6: Samsung Galaxy Alpha
Oh, no, PhoneArena, you did not include a two-year old Android phone in this list! How could you do this, PhoneArena?! Well, we did. After all, the iPhone SE is a design that dates back to the iPhone 5 from 2013. The Galaxy Alpha was Samsung's experimental phone in its transition to beautiful designs. It was overpriced at launch, but now you can still get it for around half the price of the iPhone SE. Is it worth it? Hell yes. It's one of our subjectively favorite designs with a very sleek and elegant body, it's got a 20nm processor that is not slow by any means, it has a very good camera and a replaceable battery (the built-in 32GB of storage is also double that in the base iPhone SE, but there's no microSD card slot on the Galaxy Alpha). Sure, it's a bit dated, but it's expected to get the latest Android Marshmallow update in June 2016, so it's still game.