HTC hints that something big is coming with new Instagram video
21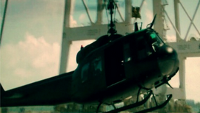 A video posted on HTC's Instagram page shows a helicopter landing on a rooftop helipad while HTC put up a caption that reads "
Big things ahead".
That could be a reference to the unannounced
HTC One Max
, the phablet-sized version of the HTC One that is believed to be in the works.
An image of that device leaked over the weekend
along with a list of possible specs. At the end of the quick 15 second clip, the HTC logo is revealed to stand for Here's To Change and Happy Telephone Company.
There might not be that much happiness in Taiwan these days with speculation that the company is going to be sold. That rumor
was shot down by HTC
during the weekend. And while the video could be all about the HTC One Max, some believe that it has nothing to do with a phone at all, and that the man coming off the chopper is HTC's new pitchman,
Robert Downey Jr.
Although it was never confirmed by the Taiwan based manufacturer, last month
there were rumors circulating that the Iron Man star would be paid $12 million over two years to promote HTC's handsets
.
Thanks, Anonymous Tipster!
source: HTC (
1
), (
2
)