HTC signs Robert Downey Jr. to huge contract?
39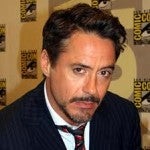 With executives leaving and sales declining,
HTC was said to be in free fall
. But the success of the sexy
HTC One
has started what could be a 180 degree turnaround for the Taiwan based manufacturer. The company is taking advantage of the popularity of its new flagship Android model by adding a mini version of the device along with a phablet sized HTC One. Add to that the HTC One Developer Edition and the "Google Experience" HTC One and you see how the company is
trying to exploit the popularity of the metallic unibody handset
.
Now that the company is working its way back to health, HTC has signed a big name actor to continue to promote it's brand. According to those in the know, HTC has signed
Robert Downey Jr.
to a two-year $12 million contract. According to the sources, Downey will be playing himself in the ads, not the characters from some of his recent hit movies like Sherlock Holmes and Iron Man creator Tony Stark. Downey is represented by CAA which had no comment about the speculation.
Samsung is a huge corporation with the wherewithal to spend huge money on marketing for its smartphones. The Korean OEM is said to spend
10 times
the amount for advertising than HTC does. Since Samsung spent $10 billion on marketing last year, that means that HTC spent roughly $1 billion on marketing in 2012. According to IDC research, HTC is the ninth largest smartphone manufacturer based on shipments, and has been surpassed by Chinese based rivals like ZTE and Huawei. Since peaking in the third quarter of 2011, HTC's global market share is down 76%.
HTC has eliminated the "Quietly Brilliant" tag line
it had been using and plans to stop marketing itself as an underdog brand. HTC's marketing chief Ben Ho says, "
We're not going to hide our brand anymore. We're going to be bolder with marketing
." Robert Downey Jr. certainly would be a bold choice to market the brand.
source:
Bloomberg