HTC One max, Windows Phone 8 GDR 3, and the $350 Nexus 5: weekly news round-up
4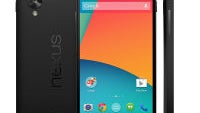 Did you hear? The Google Nexus 5 smartphone appeared at the Google Play store, priced at $350 off contract. Yet unfortunately, nobody bought one. The smartphone listing got posted there accidentally and got quickly removed afterwards. Oh well, at least we're sure that the Nexus 5 is coming sooner than later.
In other news, the HTC One max got announced officially, becoming the newest high-end smartphone in the company's portfolio. Think of it like an HTC One, but with a larger screen and a fingerprint sensor positioned at the back. It should be out worldwide in the coming weeks.
And for fans of the Windows Phone operating system, we have great news. Microsoft announced the third major update to WP8, thus confirming that Windows Phone handset with 1080p screens and quad-core Snapdragon 800 processors are on the way. The unveiling comes right on time for the anticipated announcement of the Nokia Lumia 1520.
Follow the links below for more interesting news from the past 7 days.