Amazon listing of Nexus 5 accessory points to October 30th launch
14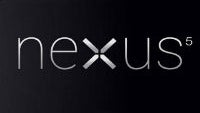 The end of this month is getting crowded with potential device launches. Just the other day, there was talk that while
the Apple iPad 5 and the Apple iPad mini 2 will be introduced on October 22nd
, the two slates
will be available for purchase on October 30th or October 31st
. On Wednesday, the latest speculation
called for an October 28th release of both the Google Nexus 5 and the Android 4.4 OS update
. But that date was decided upon by figuring the name of an obscure band originally named "
The 28th Street Crew
." Another so-called clue came in the form of a reference in a KitKat teaser to the Michael Jackson movie titled "
This is it
" which was released on October 28th.
Perhaps a less random clue as to when the Nexus 5 will actually launch alongside Android 4.4 comes from Amazon's Italian website. The site has posted the listing of rubber bumpers for the
Google Nexus 5
offered by a third party. Availability of the accessory is October 30th, which sounds like a pretty solid release date. Don't let the image of the
Google Nexus 4
on the listing throw you as it obviously is just a placeholder. And don't automatically assume that you will find the eagerly awaited handset in the Google Play Store on the 30th of this month. For as solid a release date as October 30th sounds, it could still be just a guess by the dealer.
If the October 30th date is correct for both the launch of the Google Nexus 5 and Android 4.4, and the
Apple iPad 5
and
Apple iPad mini 2
are both released on the same day, it is going to be one of the most interesting product launches in history.

Amazon Italy will ship this rubber bumper for the Nexus 5 on October 30th
Thanks, Anonymous Tipster!
source:
AmazonItaly
(translated) via
NexusLab
(translated)