LG G Flex photo is leaked; will phone be graded on the curve?
31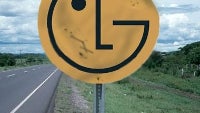 The LG G Flex is the rumored moniker of LG's curved screen phone that is expected to see the light of day soon. This, of course, comes after
the recent introduction
of the
Samsung Galaxy Round
, the curved screen handset from LG's Korean rival. As you can see from the trio of renders below, both Samsung and LG have taken different approaches to the curved screen.
While Samsung's curved screen bends in from the left and right sides, LG's curved screen bends in from the top and bottom if the pictures can be trusted. The screen size will be 6 inches according to those in the know. The latter also say that the phone will be coming out next month in all of its curved glory, although pricing is unknown at this point. The renders
do resemble a sketch of the LG model
that we showed you earlier this month.
We should point out that despite the talk of flexibility, and the use of the word 'flex' in the name of the LG handset, these two screens are curved, not flexible. In other words, they cannot bend. While right now it is the curved screens that are making their way to the market, eventually the flexible panels will do so as well.
source:
Engadget