Google to buy HTC's Pixel-making expertise, HTC retains the brand
37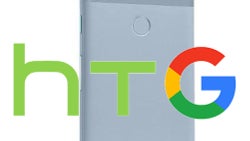 UPDATE
: Google issued a press release confirming that it will invest $1.1 billion in HTC for its phone engineering assets and intellectual property, but won't be an exclusive owner of the brand, while HTC's CEO Cher Wang mentioned that they are still "actively preparing" for the
next company flagships
.
"
These future fellow Googlers are amazing folks we've already been working with closely on the Pixel smartphone line, and we're excited to see what we can do together as one team,
" quipped Google's hardware chief Rick Osterloh. How will that partnership arrangement work in practice for HTC, given that Google will likely hoard most of its phone-making expertise, remains to be seen.
Those rumors that
Google is ready to buy HTC
? Well, they turned out to hold water in the end, as HTC stock is now suspended in trading, "pending a major announcement" tomorrow. Perennial leakster Evan Blass says they have received word that Google will be getting HTC's core mobile engineering assets, while the Taiwanese will be retaining their brand. What does that mean?
Well, Alphabet, Google's parent company, will be getting the means to make phones itself, probably sold under the Pixel brand, since the upcoming
Pixel 2
, as well as its predecessor, are said to be
made by HTC anyway
. Google already tried to be an in-house phone maker with the purchase of Motorola, but the strategy wasn't clear enough at the time, and it
divested of Moto to Lenovo
, keeping its
wireless patents
in the process.
With an eventual purchase of HTC's mobile division, Google will be getting top-notch expertise in smartphone building which it can steer and strategize with to vertically integrate the Pixel brand, and become an Apple of sorts, making both the hardware and software in house. How will that affect the other Android makers, and how much could Alphabet be paying for HTC, remains to be heard. HTC's shares ended today's session on the Taiwanese exchange about 2.5% higher, making it worth $1.9 billion at the moment.
Here's the actual Taiwan Stock Exchange memo, and, apparently, a huge part of HTC's headquarters has been blocked off for a major "release of material information" event already:
TWSE announced trading in the shares of HTC Corporation (Code:2498) and the securities underlying the company will be halted starting from Sep 21 2017 pending the release of material information. The company will apply for resumption of trading after the release of material information.