Google Voice gets new design on iOS, Android update coming soon
7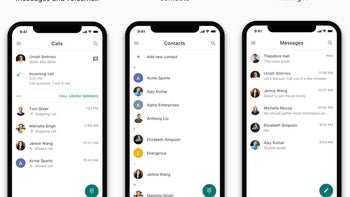 Google is in the process of updating yet another of its mobile apps, as it promised not long ago at Cloud Next 2018.
Google Voice
is getting a brand new design and a few improvements on iOS, but Android users should receive the update as well.
It's a bit surprising that Google has decided to push out the update on iOS first. Perhaps a simultaneous release would have been better, but let's hope Android users won't have to wait too long for the update.
Speaking of the new Google Voice update, the app received a brand new icon replacing the light blue and white logo. The new icon is meant to reflect the fact that
Google Voice
has been integrated with the
G Suite services
.
Some of the app's tabs have been rearranged, but there's also a new Contacts tab that offers direct access to address book. You can also add new contacts via the quick shortcut provided in the tab at the top of the list.
Calls, Messages, and Voicemail tabs remain unchanged, but they are now arranged slightly different due to the addition of the Contacts tab. Last but not least, the new update adds some stability and performance improvements.
Google Voice continues to be available for personal
Google Accounts
in the US and G Suite accounts in select markets only. Also, just so you know, text messaging is not supported in all markets.