Google Glass Enterprise Edition spotted in the wild?
11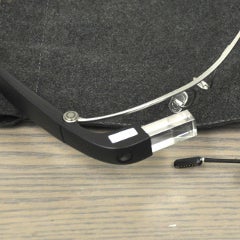 Not so long ago,
Google Glass
completely gripped the tech world. Many speculated on a future where the general populous would sport head-mounted gizmos, though the device always seemed
better suited to cops
or
plastic surgeons
. After much fanfare, Project Glass duly faded into the abyss, and the last we heard,
a special Enterprise Edition
of the face computer was being somewhat secretly distributed to, well.. enterprise users. Little has been heard since, but now an interesting eBay listing has what appears to be the newer version auctioning for a cool $2600.
You only have to look at the smartwatch arena to realize that wearable tech is still in relative infancy. But while
Apple
,
Samsung
and others have joined the established
Pebble
in decorating our wrists with gadgety splendor, Google Glass once looked primed to forge a new category of its own. To now tout Glass' renaissance would surely be premature, particularly given that
Google no longer sells the first edition
. But one eBayer appears to be selling what can only be described as an unspecified Glass model.
Google has never made a song and dance of the Enterprise Edition, thus rendering it something of an enigma. Secretive products tend to get the pulses of hardcore geeks racing, though, and if you ever wanted a proper look at the Enterprise Edition in the flesh, the eBay listing spotted by
9to5Google
may provide some relief.
As we saw in an
FCC filing
at the end of last year, the Enterprise Edition includes a couple of design tweaks over the standard model. For example, a new hinge system has been put in place to cope with the rigors of a working environment such as healthcare. To add further ruggedness, the device is waterproof. There's a camera LED that shines when the shooter is in use.
Though not too dissimilar to the standard Glass, the Enterprise model houses an Intel Atom processor and better wireless thanks partly to the 5 GHz Wi-Fi band. The chip also provides better heat management, while Google is also thought to have improved battery life.
It's unknown where Google intends to take Project Glass from here. Given that it's been largely underground for well over a year now, there's a chance that the search giant will soon abandon it completely, if it hasn't already. The company has already stressed that the product
did not evolve as was hoped
, though stopped short of publicly confirming its demise. This listing – from a pawnbroker, no less – at least serves as a reminder that the Enterprise Edition is out there.
Check out the images below and let us know of your thoughts in the comments. And hey, if you do have a few thousand to blow on a 'gently used' but potentially rare piece of tech, you can throw in a bid of your own by hitting the source.