New Google Glass Enterprise Edition sports Intel Atom CPU, improved screen and a better battery
9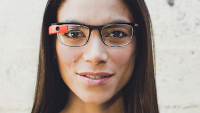 The next version of Google Glass is being referred to inside Google as the "EE" for Enterprise Edition. One change is expected to reduce eye strain thanks to the use of a larger prism, which will allow Glass users to look directly up instead of looking to the right and up. While those who have used the new Google Glass say that the screen is improved, there is no evidence that the resolution of the screen has received a bump up.
Back in December, we told you that
the second-generation Glass would have Intel inside
, and that is now confirmed by a source that has seen the latest revisions made to the internal specs of the new Glass. An undisclosed Intel Atom chipset is powering the wearable, and is said to be running faster than the clock speeds seen on top-of-the-line Android Wear flavored smartwatches. In addition, there is support for Wi-Fi in the 2.5GHz and 5GHz bands. The latter has been added to help Google Glass stream certain video apps designed for enterprise use.
While the new Google Glass has slightly improved battery life thanks to a larger capacity cell placed inside the device, it still isn't enough to run the wearable all day without a charge. Additionally, certain apps for Google Glass eat battery power like Pac Man eats dots. To provide additional energy, Google has developed an external battery pack that connects to Google Glass and helps extend the life of the stock battery.
Last week, a new wearable visited the FCC and was listed as a "Bluetooth device" with an FCC ID of A4R-X1. If you still have your Buster Brown decoder rings, that ID translates into Google Glass EE. Not really, but it is apparent that the next-generation Google Glass has visited the FCC revealing some much needed changes, and a new focus as a tool for business.

Photoshopped images compare the prism on the Explorer Edition of Google Glass (L) with the prism on the new Enterprise Edition of the wearable
source:
9to5Google
via
BGR