Dubai cops: Hands up or I'll shoot...your picture with my Google Glass
16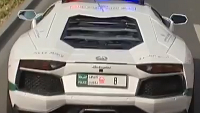 Cops and Detectives in Dubai have been issued Google Glass to use as a tool to fight crime. The connected specs are loaded with a face-recognition program that will run through a database of wanted criminals. When a match is discovered, the officer wearing Glass is alerted. The UAE city plans to release Google Glass to patrolling officers at first, in order to snag drivers committing traffic offenses, and to track vehicles suspected of being involved in breaking the law. The second phase of the rollout would see Glass handed out to Dubai's Detective Squad.
To say that Dubai's police force has it good would be an understatement. At tourist sites, officers patrol these high visibility areas in $400,000 Lamborghini sports cars. It is unknown how much the force is paying for the wearable device, but in the U.S. it can be purchased at a price of $1500 each.
With cops in Dubai driving $400,000 patrol cars, and sporting Google Glass, we would imagine that the city doesn't have trouble finding recruits for the job.
source:
Reuters