Pebble Smart Watch Review
24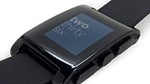 Introduction
If you think about it, smart watches have been the pipedream of techies for decades and the thing of science fiction fantasies. From Dick Tracy's wrist communicator of the 1930s to the Seiko TV Watch in the early 80s to the Nelsonic Game watches of the 90s that put NES games on your wrist, we've always had a fascination with this wearable tech. In a day and age where your grandma has an iPhone and there is a constant stream of data from the likes of email, Facebook, Twitter and a million other sources it makes sense that we'd have conquered this idea we've been dreaming about for so long. The reality is, the few smart watches available have been overly complex, plagued with issues and in general have failed miserably. Then along came Pebble, a seemingly dead simple concept that absolutely blew up Kickstarter with over $10 million in funding. Has the Pebble team finally nailed it, or is this product just another cool-on-paper idea that we've been duped with for decades? Read on to find out.
Design
We've seen a number of smart watch offerings from both startups and major players, but what makes Pebble stand out is its simplicity. Especially in black, Pebble is understated to the point that nobody even notices it until you start reading an email or a text. Even then, Pebble has garnered very little unsolicited attention in our week with the unit. This is a testament to the Pebble design team, who realized that if you're going to conquer the smart watch then you need to have something people will actually wear on their wrist.
Pebble is a simple rectangle, with
three buttons
on the right and one on the left. The buttons are slightly stiffer than you'd expect, but not uncomfortable and the stiffness prevents accidental presses. It is charged via two POGO pins on the left hand side. Pebble ships with a simple rubber watch strap, although that can be swapped for any 22mm strap on the market. We tried a few different styles, but ultimately decided the original strap was good enough.
The
face
of Pebble is a 144x168 e-paper display, which can be housed in black, red, white, orange or grey. The black and white display is easily readable in direct light thanks to the e-paper technology (same as you'd find in a Kindle or Nook), and in dark rooms you can simply flick your wrist to activate the backlight. You're not going to be watching video or browsing the web on Pebble, but the technology is perfect for getting notifications on your wrist.
The plastic housing is
scratch and shatter resistant
, with an optical anti-glare coating that ensures readability in harsh light. It is also
waterproof
to 5 ATM, allowing for use in the shower or in the swimming pool. While it is certified for fresh and salt water, it is not a diver's watch and you probably shouldn't wear it in the bath tub either. This is a watch made to be worn every day, and something you don't have to worry about when washing your hands or getting caught out in the rain.
Pebble is a little long and a little thick, but very light and on our wrist it was ultimately comfortable to wear. If you have a more petite wrist Pebble might not be the right watch for you, a feature that will turn off many potential female users. In the realm of smart watches Pebble is downright sleek, but we hope that they can shrink future generations while not sacrificing display size.