Galaxy Note 8 will not repeat the disastrous fate of the Note 7, and here's why
54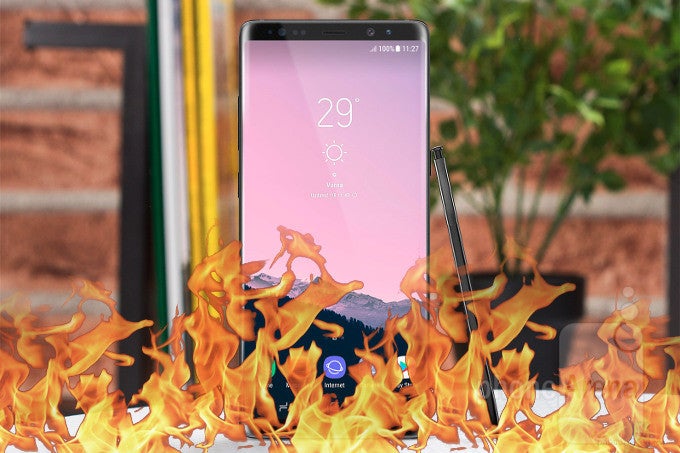 This will not be the fate of the Galaxy Note 8.
The Galaxy Note 8's announcement is slowly approaching.
Samsung will pull the veil off its new 'phablet' on August 23
, in front of what we imagine is going to be quite a formidable audience. And with that, we can't help but think back to the unfortunate events that followed the Note 7's release last year. While it does feel like the fiery saga that ultimately led to a couple of embarrassing recalls is now officially behind us, we would be surprised if at least some of the consumers interested in the Note 8 don't happen to reminisce about the Note 7 disaster prior to hitting that Buy button. The concern would be something along the lines of: "
Could it happen again?
" or "
Will it be truly safe to buy this phone? I don't want to find my house burned down...
"
Such concerns would be, of course, fully expected and justified, considering history. But, we actually have all the reasons to believe that, in this case, history will not repeat itself. The Samsung Galaxy Note 7 was a defective and dangerous product, but the Galaxy Note 8 should be perfectly safe, just like all other Samsung products around us. Here are four big reasons why the Note 8 should not explode:
1. Samsung's new 8-point battery safety test
Following the Note 7 fiasco, Samsung wisely decided to take its battery safety check procedure to the next level. It now includes a total of 8 tests, designed to ensure the short- and long-term operation safety of the juicer. This 8-point system includes physical examination by a specialist and by X-ray, standard durability testing, charge and discharge cycling, volatile compound leakage checks, battery disassembly, unexpected voltage change detection, and a new "accelerated usage test" which attempts to simulate the behavior of the battery after two weeks of actual usage, in just a few days.
According to Samsung, such a system would have allowed it to detect the quality issues which led to the Note 7 catching fire. And while it's normal for some to still have their doubts, we're willing to believe Samsung has finally learned its lesson.
2. The Galaxy Note 8 will be a much bigger phone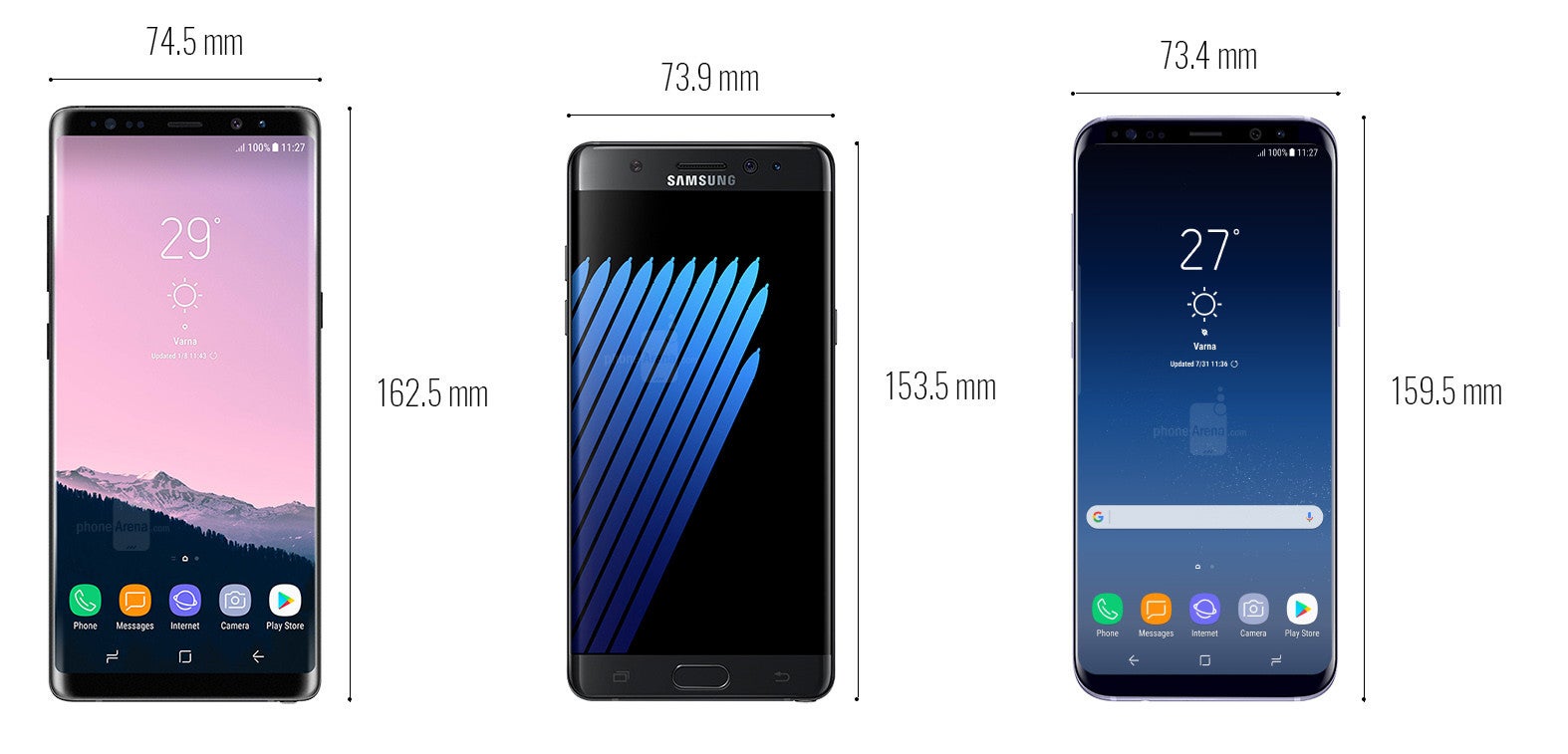 Note 8 vs Note 7 vs Galaxy S8+
Judging by all the leaked information, and as demonstrated by our preliminary
Galaxy Note 8 size comparison
, the Note 8 will be a huge device. Much bigger than the Note 7! Now, why is this important? Well, part of the reason why the Note 7's faulty battery started showing its faults was the cramped space in which Samsung's engineers attempted to fit it. The Note 7 was a remarkably compact phone, yes, but to achieve that, everything inside it was so tightly put together, it made it go 'boom, boom!' Sort of like the Big Bang, but the actual one, not the geek fest.
Now take a look at the size comparison above; what do you see? That's right – the Note 7 looks like a little boy (did we just assume the Note's gender here?) compared to the Note 8, and while the larger (mostly taller) display, could easily justify the growth in footprint, leaked data also points at a thicker profile. To summarize, the Note 8 will grow in every direction, while we know that most of the internals inside will not grow (the tendency for logic boards and chipsets is to actually become smaller). With this in mind, we would guess things on the inside of the new smartphone will feel much much more spacious, with larger distances between certain components. And while a bigger device would usually lead us to expect a bigger battery as well, take a look at this...

3. The Galaxy Note 8's battery will be SMALLER than that of the Note 7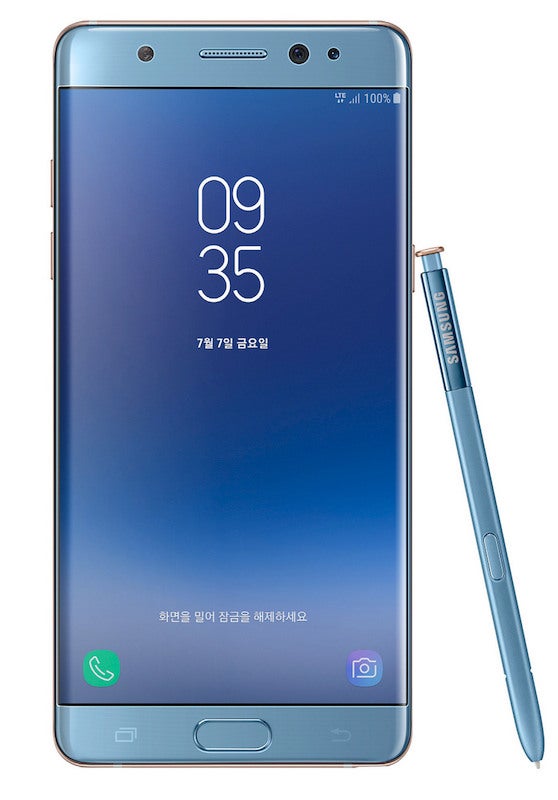 Samsung later reworked the Note 7 into the Note FE, with 'improved' (smaller) battery design; so far, no explosions reported!
It's obvious what's going on here: Samsung isn't willing to risk it even the smallest bit. And if we were Samsung, we'd have probably felt the same. If this was Samsung of 2015/2016, we're sure the battery pack inside the massive Note 8 would have been closing in on the 4000 mAh mark, but again, because of history, Samsung is taking the ultra-safe approach by actually shrinking the Note 7's 3500 mAh juicer down to 3300 mAh. You know what they say: the smaller the battery, the smaller the explosion!
So what does that mean? Well, it means space inside the Galaxy Note 8 will be bigger
and
emptier, and the battery inside will be of smaller capacity and most probably dimensions as well, to avoid unnecessary contacts and pressures. As consumers, we can't say that we're happy about this development: the Note 8 will have a considerably larger display than the Note 7, and with a smaller juicer, the battery life will probably take a hit, rather than a boost. In our preliminary
Galaxy Note 8 specs review
, we calculated that Samsung's next big thing will probably last for slightly less than 8 hours on the PA Battery Life test. And while such stamina should be enough for a good day of moderate usage, it'll obviously not impress in any way. Oh well, at least she's
not
gonna blow!
4. Samsung will put extra care in ensuring the Note 8's safety
We mentioned the 8-point battery safety system, which Samsung now has in place for all of its smartphones, and we talked about the roomier dimensions of the Note 8, as well as its more conservative battery design. What we'd also like to suggest here is that Samsung has been extra careful when designing and testing its new Note. The battery safety program is good to have, but it applies to all of the company's phones, including the Galaxy S series, and this one never blew up. The Note 7 did blow up, however, so we're certain in this: all Samsung Mobile executives and engineers will be involved in making sure everything goes according to plan with the Note 8. There will hardly be room for any error.
Many people wondered why Samsung is bothering at all with the release of the
Note FE
, just weeks before the Note 8 announcement. Our guess? To prove it can make a Note 7 that doesn't explode. So now that the Note Fan Edition has been out there for a while, with no reports of any accidents, we can be much more confident that the company's efforts towards better safety and reliability are yielding results.